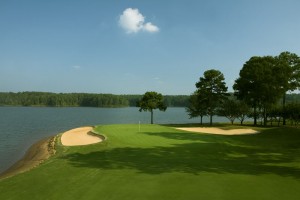 The always peace-loving Golf Road Warriors are heading to the green hills of central Georgia and stately Reynolds Plantation for a week of doing-whatever-it-is-we-do. As I prepare to join my mates by the shores of Lake Oconee, I am pulling pairs of shorts out of the blue storage tub with "Out of Season" written on the lid. That, and dusting off my golf bag to take make sure it's all intact following the dark winter.
Yes, though the airlines make it unpleasant to bring those golf sticks along, I can't be without them and settle for a rental on this trip. My previous golf sojourn was over to Wales last year, whither I arrived only to find the golf gear was lost in the airline-baggage ether. I ended up with some very high-performance TaylorMade clubs from the rental inventory of Celtic Manor—and realized something. When you get to a fine resort and don't have your own personal golf gear with you, it's not the clubs that you really miss, it's the bag, and all the stuff in all the pockets of that bag.
To begin with, you don't have your supply of balls—received free, because you're a golf writer, and kept in various categories based on newness, preferred brand, finder-keepers with the wrong personalized marking on them, and so forth. You don't have your favorite pitchmark-repair tools, your strange foreign coins used as ball markers and often commented upon by players you get paired up with randomly. Your gloves, in various states of freshness and ripped-ness, aren't in that gloomy big empty-pocketed Rental bag. Your sunscreens aren't in there, nor your treasured golf towel (and oldie from normal home use, not some grommetted thing especially made for golf). That lip balm you're going to need—not in the rental bag. That pack of gum from three years ago, when you made two natural birdies in one day and, well, you don't want to change anything from that day.
I can clearly recall playing the magnificent links of Porthcawl with that funky golf-cart bag, empty of reassuring objects and bouncing off my hip like a beach ball with every stride. Yes the clubs in the bag were fine, but still I was lost without my, my, well, without my stuff !!