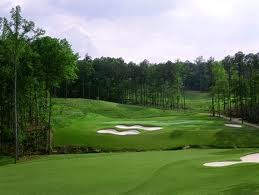 Brian McCallen, Peter Kessler, Jeff Wallach and I did our jobs today, and please put air quotation marks around that word, because all we did is play golf, eat great meals, go through high-tech clubfitting for free Taylor Made equipment and glide around Lake Oconee fishing with an expert guide. At other destinations along the Road we Golf Road Warriors travel, there is (or very possibly could be) bouts of intense envy from those around us, given the pleasure principle that guides our daily activities.
Not the case among the denizens of Reynolds Plantation, here on the peaceful shores of Lake Oconee, neither the residents nor the senior staff. Few resort communities could ever match Reynolds for the wouldn't-want-to-be-elsewhere factor. "Some of the people who live here are extremely high net worth individuals," explained Chris Fedelem, marketing director, at our dinner last night. "Most are just successful folks who have managed their finances well enough that they can live where they want–and this is that place."
Our morning round of golf was at the Tom Fazio-designed National course (pictured above). Of the 27 holes at that complex we played the Cove and Bluff nines, with a member along to fill out one of the groups. Excellent day of golf on what is a wonderfully routed course that balances variety and integrity shrewdly. And yes, there are droll comments about how it is we get paid to spend perfect spring days in this manner, but no one is openly jealous or walking around wishing they were us. Out of a reverse-schadenfreude, we secretly hope that will happen. However this tasteful, pine-studded land of contentment isn't the place for it.