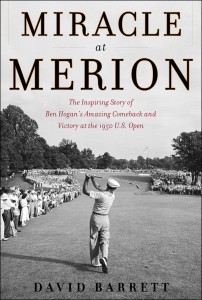 Ben Hogan's victory at the 1950 U.S. Open at Merion Golf Club, achieved 16 months after nearly losing his life in a car-bus crash, has achieved mythic proportions.
In writing the definitive account of that championship—Miracle at Merion, published in October by Skyhorse Publishing—I did my best to get to the bottom of what really happened, clearing away faulty recollections or untrue embellishments that may have taken hold. It wasn't always possible to come to a definitive conclusion, since the events happened 60 years ago, but here is Part 1 of the results of my research (and here are Part 2 and Part 3):
One-iron approach to the 18th hole, fourth round
The one-iron that Hogan hit to the 18th green in the final round (the shot made even more famous by Hy Peskin's photograph) is displayed in the USGA museum. But in his book Five Lessons: The Modern Fundamentals of Golf, Hogan and collaborator Herbert Warren Wind wrote that he hit a two-iron. Hogan told a group of reporters in 1969 that he used a two-iron, and Dan Jenkins, the writer closest to Hogan, says that Hogan told him it was a two-iron. But accounts closest to the event say it was a one-iron, and they carry more weight. Fred Byrod in the Philadelphia Inquirer and Lincoln Werden in the New York Times both wrote in their reports that it was a one-iron. Hogan told golf writer Charles Price two weeks after the Open that he hit a one-iron, and further explained to Price that he considered hitting a four-wood before deciding on the one-iron. Later in life, Hogan said that the two-iron reference in his book was a mistake and that it was a one-iron.
Theft of one-iron and golf shoes
Hogan later said that his one-iron and golf shoes were stolen from the premises at Merion after the fourth round. But there is good reason to believe that the theft happened after the next day's 18-hole playoff instead. There is solid evidence that he hit a one-iron in the playoff; indeed, Hogan is quoted in the next day's Inquirer saying that he misjudged the wind on the eighth tee and "used a No. 1 iron when I should have hit a brassie [three-wood]." The newspaper account also said Hogan hit a "driving iron" (a term used for a one-iron) off the tee on the 11th. It is very unlikely that Hogan had a backup one-iron, and also unlikely that he misspoke after the playoff round about using a one-iron.
Hogan said that his golf shoes were stolen from his locker. But a theft of both the shoes and one-iron at the same time and from the same place seems more likely, and so does a theft from a public place instead of the Merion locker room. There is a plausible scenario for this to have taken place after the playoff. Whereas after the fourth round, Hogan's golf bag would have been whisked away to the club's storage room, in the fourth round it would have remained on a rack near the clubhouse until after the awards ceremony. Also, it's quite possible that after changing into a jacket and street shoes for the ceremony Hogan would have brought his golf shoes down and put them in his golf bag—no reason to leave them in the locker then. A final point: After the fourth round, the thief wouldn't have known what club Hogan hit on the 18th hole. But the next day's paper reported that he hit a one-iron, so an unscrupulous person looking to steal a historic club would have known which one to take.
I trust Hogan on his identification of the missing one-iron when it was sent to him in 1983. A club collector in North Carolina named Bob Farino purchased the one-iron and suspected from the tiny impact area on the clubface that it was Hogan's. He gave it to the Hogan Company for Hogan to look at, and Hogan in turn gave it to the USGA Museum after confirming it was his.
How many times Hogan hit the one-iron
The oft-told story about Hogan adding the one-iron to his bag while taking out the seven-iron because "there are no seven-iron shots at Merion" comes from Price's interview with Hogan a couple of weeks after the Open. Price also said that the shot on the 72nd hole was the only time Hogan used the one-iron all week, but I don't buy that. If that's the case, it doesn't say much for Hogan's idea that a one-iron was so necessary. I think that Hogan used the one-iron from the tee on some of the shorter par fours—as he did in the playoff—and that's why he put it in the bag. My guess is that the 72nd hole was the only time he used the club from the fairway.
Hogan nearly falls on the 12th tee
I'm not sure how many writers saw Hogan's legs almost give way after he hit his tee shot on the 12th hole in the final round (his 30th hole of a grueling 36-hole final day), but word definitely got around about the incident—it was in every tournament report in the newspapers and wire services. They also noted that fellow competitor Cary Middlecoff marked Hogan's ball on the greens after this to save Ben from bending, and the USGA's Richard Tufts and Joe Dey both commented later about Hogan's difficulty in walking from the 12th hole onward.
So, there's little doubt that Hogan nearly fell, but open to question is who Hogan grabbed onto. Bill Campbell, an amateur who missed the cut in the championship and later went on to become a USGA president, was a spectator and he recalls Hogan holding onto Middlecoff. However, I went with the account of Hogan on this one, as told to writer Jim Trinkle in 1971. He said he grabbed the arm of Harry Radix, an acquaintance who was standing near the tee. "I told Harry, 'My God, I don't think I can finish,'" Hogan said.
The writers at Merion seemed to think that Hogan twisted his knee. That's how the question was phrased after the round, which gave Hogan a chance to deny twisting it and say he was tired of reading about his injuries. More likely, it was muscle spasms, cramps, or just weakness in his legs (Hogan had poor circulation in his legs due to vascular surgery after the accident, which is why the 36-hole final day of the Open was so difficult for him.) The way Hogan put it in 1971 was, "My legs had turned to stone." While he downplayed his injuries to the press after the round, he told Price two weeks later that "my legs were killing me." To Trinkle, he said, "I didn't like to talk about my legs because it's no good when you feel that people feel sorry for you."
By the way, Merion historian John Capers notes that loose turf might have been part of the reason for Hogan to slip and nearly fall. The 12th tee is in the shade, and thus a difficult spot for grass, and new turf had recently been installed.
Hogan nearly quits after the 13th hole
This was entirely unreported at the time, but it's a story that eventually circulated around caddies and members at Merion and then appeared in print. Supposedly, Hogan told his caddie after finishing the 13th hole, which returns to the clubhouse, that he couldn't make it any farther and to bring his clubs to the clubhouse. "I don't work for quitters. I'll see you on the 14th tee, sir," the caddie is said to have replied.
I was very skeptical about this one. If it happened at all, I figured it more likely to have been during the third round when there were 23 holes to go. I found it hard to imagine a man of Hogan's determination and will abandoning his quest with just five holes remaining unless he was on the verge of collapse—and no witnesses reported seeing him in such a state on the 13th hole. I was surprised to learn that Hogan, late in his life, confirmed this story twice, once to Price and again to Merion's Capers. Of course, we've seen that we can't always trust Hogan's later recollections. But it's hard to see why he would admit to this if it weren't true.
The story must have originated with the caddie himself. However, it took some time for it to work its way into club lore, and some time after that for Capers to look into its veracity. By that time, the caddie wasn't at Merion anymore. His name wasn't recorded, and nobody remembered it, so Capers was unable to track him down. The caddies for the Open were all club caddies; it's thought that their names were drawn from a hat. They were veteran caddies, all at least in their twenties and most of them older than that, so it is unlikely that he is still alive. Of course, we don't know if the caddie really made that cheeky comment; I suspect it is an embellishment to make the story even better.
Lloyd Mangrum penalty
On the 16th hole of the 18-hole playoff, Lloyd Mangrum, trailing by one stroke, marked and picked up his ball on the green to blow off a fly. At the time, a player was not allowed to lift his ball on the green except when it interfered with the play of another player. After completion of the hole, USGA official Isaac Grainger informed Mangrum that he was penalized two strokes, and was now three behind, virtually handing Hogan the victory.
What was Mangrum thinking? Some have speculated that since a local rule at tournaments run by the PGA allowed players to clean balls on the greens, Mangrum forgot for a moment that he couldn't do that at a USGA-run event. It's apparently true that at some point in the late 1940s the PGA did include this among several lenient local rules. However, by 1950, most or all of these local rules had been rescinded to bring the PGA in line with the USGA. I couldn't find a "smoking gun" about when this particular local rule stopped being used, but I did find an incident just a few weeks later when a pro named Pete Cooper lost a tournament after he missed a short putt that he attempted with a piece of chewing gum clinging to the ball, so it appears it was not in effect in 1950.
Mangrum's comment after the round was, "I thought I could remove anything like a bug or a snake." So, it wasn't that he thought cleaning the ball was OK, but he thought it was OK to remove a bug or other loose impediment. Unfortunately for Mangrum, he was wrong in that assumption.
Before my research, I thought that it would have been OK for Mangrum to remove the bug without touching the ball either by carefully taking it away with his hand or blowing it off. A current Decision on the Rules of Golf allows this for a ball lying through the green (on the green, of course, the player can now mark and lift the ball), explaining that a live insect is not considered to be adhering to the ball and is thus a loose impediment.
However, I noticed that when USGA official Isaac Grainger told Mangrum that he had incurred a penalty, he told him that he had "lifted and cleaned" his ball. If Grainger, one of the foremost Rules experts of all time, said Mangrum had cleaned his ball, he must have cleaned it. This was cleared up when Merion's Capers told me about a conversation he had with Grainger many years after the Open. Grainger's explanation was that a live insect was considered to be adhering to the ball because of secretions, and was not a loose impediment. So, the interpretation was different in 1950.
The only fortunate thing for Mangrum was that in this situation there was no double jeopardy, so instead of separate two-stroke penalties for lifting and cleaning he received a single two-stroke penalty. That mattered because in those days playoff losers were not considered tied for second, enabling Mangrum to pick up $2,500 for second and leaving George Fazio, who finished two strokes behind Mangrum, with $1,000 for third.
Mangrum's reaction
It has been widely attributed to Mangrum that after being informed of the penalty by Grainger on the 17th tee, he said, "Well, we'll all eat tomorrow." The essence of that was confirmed by Grainger in an oral history for the USGA. Grainger said that Mangrum "put the club back into the bag and made the statement, 'Well, I guess I can feed the children,' or something like that."
Mangrum's only trace of annoyance came at the awards ceremony where USGA President James Standish referred to the club as "Merion Cricket Club" when it actually had been Merion Golf Club since 1940. While receiving his runner-up prize, Mangrum said something like, "Well, the brass might not know where they are, but they sure know the rules."
This was a case where the next day's newspaper got it wrong. Apparently somebody gave the Inquirer's Byrod the quote from the ceremony, but the context was garbled, and he ended up writing that Mangrum held up an iron and said, "Some members of the USGA might not know what club this is but they know the rules."
Mangrum, incidentally, held no grudge against Grainger. He later sent to Grainger a picture of the two of them that had been taken at the U.S. Open at Merion inscribed: "To Ike, May we never have bugs again—Love & kisses, Lloyd Mangrum." The photo is now in the Merion archives.