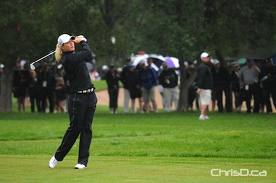 Suzann Pettersen finished second yet again last week at the Lorena Ochoa Invitational. That's six second-place finishes and no victories in 2011.
Has she been a choking dog? No, snakebit is more like it.
In her six runner-up finishes, Pettersen has shot 70, 69, 65, 69, 69, 68 in the final round. That's a 68.33 average. But she keeps being beaten by heroic performances. The winners of those six tournaments have shot 63, 68, 68, 69, 70, and 64. That's a 67.00 average.
Here's a rundown:
Honda PTT LPGA Thailand: Pettersen had a six-stroke lead entering the final round and shot a not-bad 70. She was beaten by Ai Miyazato, who stormed from second place with a 63, the best round of the week. Both players birdied the 18th; Pettersen finished one stroke back and five ahead of third place.
Kraft Nabisco Championship: Started the final round tied for second with Yani Tseng, one stroke back. While leader Karen Stupples crumbled, Pettersen shot a 69 but Tseng had the best round of the day with a 68 to win by one.
Bell Micro LPGA Classic: Three strokes back entering the final round, shot the best round of the day with a 65 to reach a playoff. Se Ri Pak got into the playoff with a 68 and beat Brittany Lincicome on the third extra hole after Pettersen bowed out with a bogey on the second playoff hole.
U.S. Women's Open: Entered the final round four strokes behind Paula Creamer, but had only one other player between her and the lead. Pettersen shot a 69, but Creamer was uncatchable thanks to a 69 of her own at Oakmont.
CN Canadian Women's Open: Again four strokes back heading into the final round, shot a 69 but Michelle Wie was steady with a 70 to win by three.
Lorena Ochoa Invitational: Had a one-stroke lead entering the final round and shot a 68. That wasn't good enough, as In-Kyung Kim bolted in front with a 30 on the front nine and finished with a 64 for a three-shot win.
Pettersen's reaction to Sunday's result was, "Another second-place finish. It sucks."
In fact, since 2007, when she had five wins and two seconds, Pettersen has only one victory and 12 runner-up finishes. But with better luck this year, the 29-year-old Norwegian would be in the mix for Player of the Year. Her latest runner-up finish moved her up to second in the Rolex World Ranking behind Jiyai Shin, and Pettersen is fourth on the money list. She leads the Tour in greens in regulation with an impressive 76.9 percent.
Pettersen has five other top-five finishes in 2011, giving her a total of 11 in 18 starts. Her final round scores in her other top-fives: 69, 66, 66, 69, 70 for an average of 68.00. Clearly, her trouble doesn't lie in finishing tournaments. Her final round scoring average in all events is 69.35; in other rounds it's 70.13.
Looking at past LPGA Tour history, one player who comes to mind with a similar record at one point in her career is Pat Bradley. The Hall of Famer had two years with no wins and five runner-ups (1979 and 1984) and another with one win and six seconds (1976). Once considered to be shaky in the clutch, Bradley went on to have one of the greatest years ever on the LPGA Tour in 1986, claiming three major championships.
We don't know if that dramatic a turnaround is in store for Pettersen, but one thing is certain: If she keeps playing the way she is now, her fortunes will turn and the victories will come.