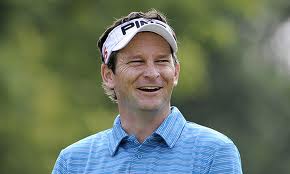 Three years ago, when he heard that the Masters had announced it would start inviting PGA Tour winners again, Mark Wilson briefly thought he had earned a trip to Augusta. The announcement came during the 2007 Masters, a month after Wilson scored the first victory of his PGA Tour career at the Honda Classic. Wilson figured that winners in the calendar year of 2007 would get into the next year's Masters, but he soon found out that the invitations were for winners from one Masters to the next.
In 2009, he won the PGA Tour's Mayakoba Classic, but that was a secondary event played the same week as the WGC-Accenture Match Play, and opposite-field tournament wins don't get you into the Masters. That same year, Wilson finished 32nd in the FedExCup standings when a finish in the top 30 would have gotten him into Augusta.
Wilson dropped to 123rd on the money list last year, and it seemed like the 36-year-old might never make the Masters. But he finally nailed down a Masters invitation by winning the Sony Open of Hawaii on Sunday by two strokes over Tim Clark and Steve Marino.
"I looked at the fine print and made sure," Wilson said of finally earning a spot in the Masters. "I get goosebumps thinking about it."
Wilson punched his ticket by playing the 36-hole final day (making up for Thursday's rainout) without a bogey. In the final round, he twice saved par on the front nine with 7-foot putts and then made his biggest save on the 17th hole. With a one-stroke lead over Tim Clark, who had finished, Wilson stared at a 10-foot putt for a par after bunkering his tee shot on the par 3, and knocked it in to retain the advantage. A birdie on the 18th gave him a two-stroke margin after a 3-under 67.
For Clark and Marino, the frustrations of trying to reach the winner's circle continued. Clark did finally score his first PGA Tour victory at the Players Championship last May, but that's his lone triumph while the Sony was his ninth career runner-up finish. This marks the seventh straight year with a second-place finish. Marino is still looking for his first win and has now finished second three times.
The good news for the runners-up is that they are both already in the Masters. Marino got to Augusta in 2010 by finishing in the top 30 in the FedExCup the previous year, and earned a return trip by tying for 14th in his Masters debut. Clark is in the field from his Players victory and his world ranking.
I wrote after last year's Players that Clark wasn't a choker, he's just a steady player who doesn't go super low very often. Well, he actually had a chance for a super low round on Sunday afternoon, but couldn't quite take advantage, shooting a 64 that could have been better.
Finishing on the front nine due to the split-tee setup, Clark almost put a charge into the tournament with a near ace on the 7th hole (his 16th), hitting a 197-yard shot within two inches. He had also hit a 164-yard shot to two feet on the par-3 11th (his 2nd) and a 151-yard approach to one foot on the par-4 2nd (his 11th). Add in a pitch shot to three feet for a birdie on the par-5 18th (his 9th) and a two-putt birdie on the par-5 9th (his 18th), and only two of his birdie putts were longer than three feet.
Clark birdied three of his last four holes, but still didn't do his reputation any good with his finish. On his next-to-last hole he missed an 11-foot birdie try, but worse than that was coming up more than a foot short on a 16-foot eagle attempt on his last hole which would have tied him for the lead at the time.
I devised an advanced putting metric for a 2004 article in Sports Illustrated Golf Plus that evaluates putting by comparing a player's performance to the Tour average for the distance of each of his putts. Clark had 29 putts in the final round, but that's exactly the number of putts he "should" have had based on an average performance from where he putted from—he didn't pick up any strokes on the greens, his 6-under score was due to hitting it close so often.
Wilson also had 29 putts in the final round, but my plus-minus stat shows that he gained two strokes on the greens compared to an average putting performance—two strokes that gave him his victory margin. He missed a 5-footer but that was his only miss from inside 20 feet and he more than made up for it by holing putts of 5, 6, 7, 7, 7, and 10 feet.
For the week, Wilson gained six strokes with his putting—and another one with his short game when he pitched in from 12 yards on the third hole of the third round. Marino and Clark, meanwhile, putted better than average for the week but not as well as Wilson. Marino gained three strokes on the greens for the tournament and Clark two or three (it comes to 2.5, but there's no such thing as a half-stroke on the scorecard).
And that's why Wilson's April plans will include Augusta for the first time.