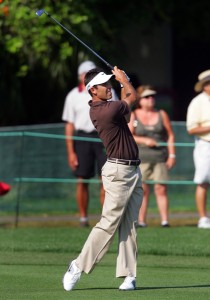 Birdie. Charl Schwarzel. Yes, another South African with a strange name. We've gone from Louis Who? to Charl Who?
But like Louis Oosthuizen's six-shot victory in the British, there was nothing fluky about Charl Schwartzel winning the Masters Sunday. In fact, if Tiger Woods finished the way Schwartzel did with four straight birdies to break away from the crowded pack, the wordsmiths would be falling all over themselves. Also, let's not forget that start with a chip-in for birdie on 1 and a hole-out for eagle on 3.
Indeed, it was a performance for the ages, rivaling anything the other legends had done at Augusta. In one of the tightest Masters ever, a 26-year old with a strange name walked away with the Green Jacket. Well done.
Birdie. The Masters. The tournament always seems to deliver, doesn't it? Was the 2011 version the best ever? Probably not. But it definitely produced a Sunday that we'll be talking about for a long time.
Bogey. No-name winner. Not to take anything away from Schwartzel, but he probably wasn't the winner golf wanted Sunday. The game was longing for a champion from the next big thing in Rory McIroy or Jason Day or the biggest thing in Tiger Woods. Does Charl Schwartzel get you excited? Probably not.
Bogey. Rory McIroy. It's hard to remember a more painful implosion by a leader in the final round. Actually, I can remember. Dustin Johnson went into the U.S. Open on Sunday at Pebble Beach with the lead and exploded with an 82. He recovered and might have won the PGA Championship if he knew the rules.
Let's hope the same thing happens to McIroy. Plenty of golf fans now will be rooting for him after the classy way he handled the nightmare. His post-round interview was the best thing he did all day.
There's going to be a big scar from Sunday. But he's only 21, and let's not forget the kid held the lead for 63 holes. He will make up for Sunday and then some.
Birdie/bogey. Tiger Woods. For all the excitement he generated Sunday, he still finished four shots back. He would have needed a 63 to force a playoff.
The good for Tiger: His 31 on the front 9 showed he still has the greatness in him. He put himself in position to win the golf tournament.
The bad for Tiger: The old Tiger would have done better than a 36 on the back 9. Clearly, something is going on with the putter. Now you have to wonder if he has the yips.
Also, unlike McIroy, who was so gracious in his post-round interview, Woods acted like a jerk with one or two word answers. He still doesn't get it.
Loser. Ian Poulter. Guess he was wrong about Tiger not finishing in the top 5. Next time he should limit his comments to himself.
Birdie. The Australians. So close yet so far for Adam Scott and Jason Day. Still, it was great to see both players up there. Here's hoping that new broom putter enables Scott to reach his vast potential. Day also looks like a special player.
Birdie/bogey. Luke Donald. He made a nice run, but you have to wonder what would have happened if he hadn't dunked his tee shot on 12. Stunning to see Donald miss with an iron.
As for his wardrobe, Donald took some heat for his Saturday combination of pink shirt and green slacks. Lawrence Donnegan of the Scotland-based Observer wrote:
"Luke Donald was another who provided a little entertainment for the paying punters (sorry, patrons), turning up for the show in a pink shirt and a pair of green trousers. Not since Paul McCartney and Stevie Wonder teamed up to sing Ebony and Ivory has colour co-ordination produced such a ghastly outcome."
Ouch.
Birdie. Fred Couples. Tied for 15th. Thanks again for the memories, Freddie.
Bogey. Martin Kaymer. The world No. 1 was totally baffled again by Augusta National. Wonder if the pressure of being in the top spot is getting to him.
Bogey. The Illinois guys. Playing in their first Masters, Mark Wilson, D.A. Points and Kevin Streelman all missed the cut.
For more of the Aposition's coverage of the Masters, click here.