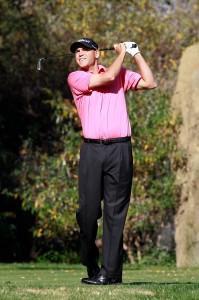 Only 221 days until the opening matches at Medinah:
It certainly was a thrilling finish Sunday. Hard to remember watching two players drop key putts on 18 to get into a playoff. Then Bill Haas' winning putt on 10 capped a memorable day.
Besides Haas' victory, the tournament opened a window of what we can expect from the U.S. Ryder Cup team at Medinah. Just take a look at the new points standings. Trailing No. 1 Phil Mickelson are Haas in second and Keegan Bradley in third.
Two years ago, those players were nowhere to be found on the U.S. Ryder Cup team at Celtic Manor. Now in 2012, they will be counted on to be key members of captain Davis Love III's crew against the Europeans.
It isn't just Haas and Bradley. Kyle Stanley, now fourth, also looks to be a good bet to make the team, and Johnson Wagner is sitting in the sixth spot. I think you're looking at the possibility of four rookies being among the top 8 players that automatically earn spots on the team.
Ouch: Steve Stricker hopes to ditch surgery and avoid having surgery on a herniated disk in his neck. At age 45, he doesn't want to give up a shot to play in the Ryder Cup. He currently is fifth in the standings.
Gary D'Amato from the Milwaukee Journal Sentinel reports:
"After Hawaii, I was kind of leaning toward surgery again," said Stricker, who first felt symptoms associated with the cervical injury – weakness in his left arm and tingling in his hand and fingertips – in December 2010.
"I struggled in the (Sony Open) so even though it was a good trip I came home a little bit frustrated with my arm."
After more consultations with doctors, however, Stricker decided to stick with his treatment plan of rest and physical therapy. He said he didn't touch his clubs for three weeks after Hawaii and his condition improved.
"The doctors said, 'Let's just hold off. We're seeing little signs of improvement,' " he said.
Here's the latest points.
1

Phil MICKELSON

2,637.074

2

Keegan BRADLEY

2,386.217

3

Bill HAAS

1,878.471

4

Kyle STANLEY

1,872.053

5

Steve STRICKER

1,683.076

6

Johnson WAGNER

1,654.298

7

Brandt SNEDEKER

1,628.962

8

Dustin JOHNSON

1,337.902

9

Mark WILSON

1,239.250

10

Jason DUFNER

1,174.477

11

Ben CRANE

1,016.850

12

Robert GARRIGUS

870.060

13

Kevin NA

828.116

14

Webb SIMPSON

781.669

15

Harrison FRAZAR

767.710

16

Bo VAN PELT

764.776

17

John ROLLINS

745.168

18

Spencer LEVIN

741.589

19

D.A. POINTS

689.043

20

Bubba WATSON

688.183

21

David TOMS

662.000

22

Ricky BARNES

635.894

23

Jimmy WALKER

587.963

24

Jonathan BYRD

560.400

25

Ryan PALMER

545.949