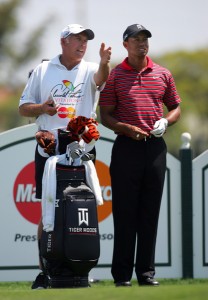 In this week's golf report for Crain's Chicago Business, In today's golf report, I tackle the latest controversy to hit Tiger Woods: his firing of caddie Steve Williams.
I write:
The guy might not be playing, but he has a wonderful knack for capturing our attention. He did it Thursday by disclosing that he had fired his longtime caddie, Steve Williams.
It isn't often that the dismissal of a caddie makes national headlines, but this was a special and wildly successful relationship. And now it's over, like everything else in Mr. Woods' world these days.
In this week's Inside the Leather video,
Steve Olken and I discuss how the LPGA Tour is getting little attention these days since the retirements of Annika Sorenstam and Lorena Ochoa. Unfortunately, Michelle Wie hasn't produced the results to match the hype.

H. Lee Murphy has a course review of Phillips Park in Aurora.

Here's the link to all things golf.