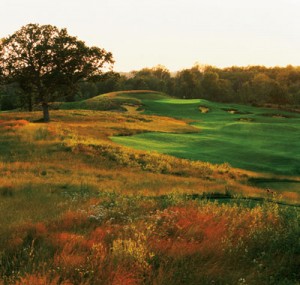 It will be interesting to see just how much the United States Golf Association embraces the new "Tee it Forward" program it's been endorsing at this week's U.S. Amateur.
The scorecard calls for Erin Hills to play to 7,770 yards. It includes five par 4s more than 495 yards and a 675-yard par 5 closer on 18. That would be driver, 3-wood, 3-wood, 3-hybrid, ball-in-pocket-where's-the-Guiness? for me.
The course, located outside of Milwaukee, also isn't flat. There are plenty of mounds that will make the hole feel longer than what's listed on the card. The downhill holes still seem plenty long.
The course actually could be played as far back as 8,100 yards. So the players should feel like they are getting a reprieve at 7,770. The reality, though, is I'd be surprised if it plays that long during the tournament.
The Amateur is the big warm-up act for Erin Hill. The tournament will give an indication of how it will look and play for the 2017 U.S. Open.
I've been writing about this improbable story from the beginning. I love the course, but that's mainly because it is so different than what we normally see in the flat Midwest. It'll be interesting to see what the reviewers think when Erin Hills is exposed to the big stage.
I'm going up on Wednesday. More later on.