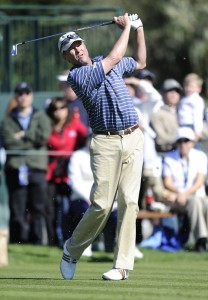 207 days until balls are in the air at Medinah.
Before Davis Love III threw up his 64 Thursday the first round of the Honda Classic, he met with reporters earlier in the week. The U.S. captain talked about the on-going preparations for the Ryder Cup. As usual he faced the question of whether he would be a playing-captain if he qualified on the points list.
Clearly, DLIII still has plenty of game left in him after that 64. However, he also isn't the same player he once was, as evidenced by Friday's 72. He eventually finished T-21. He is 39th on the points list.
Part of the problem, he said, is that he isn't playing that much. Last week's tournament only was a his fourth start. He said:
I've been saying that I would play if I made it. You see guys from even farther down popping right back up with a win. So obviously I need to play better and win. I need to play more; this is only I guess my fourth start. So I need to play a little bit more. I haven't scheduled real well. I was watching basketball the last two weeks and the next two weeks I'm taking kids on spring break.

I'm enjoying my son's senior year of high school more than he is maybe (laughing). But I need to play a little bit more. I need to get on a roll, and for a lot of reasons, other than just the Ryder Cup, but I'm feeling good about my game. So I would play.
Here's Davis on other subjects:
On Fred Couples saying he wanted to be one of his assistant captains:
Can we get that on the record that he said that he would do it? (Laughter) There's no telling what Freddie is going to say. He also said he wanted to be Ryder Cup Captain when he was in Dubai, and he's 2-0, so we should let him do whatever he wants, because he's doing really well.

But I think I said that at Pebble, I would love to have Freddie. I would love to have guys that are friends of mine that have done it before.
On Hunter Mahan, who lost the pivotal match in 2010, winning Match Play:
After about the fourth or fifth person to try to put their arms around him and make him feel better, I went in his room and I said: All right everybody, he's had enough consolation, he's a big boy, he'll be able to handle it. He proved it.  He came right back out and has been playing good, and obviously to win the Match Play makes it a little I think a little more evident that he's over it and is playing well. I was happy for him and Mark that they both played well on Sunday.
On the strong start by American players (winning the first nine PGA Tour tournaments:
Well, it's very encouraging. It's what we said last year when everybody talked about, until the guy in the back (pointing to Keegan Bradley) won the PGA Championship. It just goes in streaks. But what we said last year is the Americans are playing very well. They are just not winning the majors. But Steve Stricker was winning a lot. Guys were playing really, really good.

So I think it's nice to see. It's nice that people notice that the Americans are playing great.