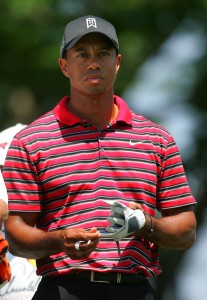 I've been saying it all along, and I'll continue to say it: Tiger Woods' physical problems are the reason why he no longer plays like Tiger Woods.
The latest news from Woods' camp certainly backs my theory. Woods said he will miss next week's Wells Fargo Championship due to a "mild" sprain in his left knee. He also tweeked his Achilles while trying to hit a shot behind the Eisenhower Tree at 17 during the third round of the Masters.
Keep in mind this is the same left knee that has been operated on four times. The Achilles also has given him problems.
Woods termed the injury as "mild." But does "mild" mean you're still not ready to go nearly four weeks after it occurred? Also, Woods isn't making any commitments to play in the Players Championship the following week.
This is the same guy who won the 2008 U.S. Open on a broken leg. Obviously, the circumstances are different: Woods knew he needed an operation and that it would be his last tournament of the year. Still, Woods must be feeling some discomfort to not be ready to tee it up in Charlotte.
Also, if his knee and ankle are bothering him, that probably means he hasn't been able to grind hard practicing all of the changes to his swing. He won't be able to "progress," as he likes to say, if he can't get the work in with Sean Foley.
Woods only is 35, but after four knee operations, it's an old 35. I'm not saying his body is breaking down completely, but these injuries have to be taking their toll.
Mild? I assure you there's nothing mild about any of this.