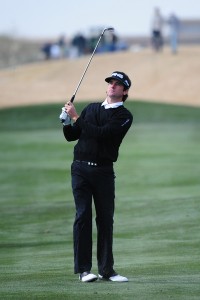 Hey, if it wasn't for the Illinois boys, American really would be in bad shape on the PGA Tour this year.
Elmhurst resident Mark Wilson (two victories) and U of I alum D.A. Points (a winner at Pebble Beach) have done their part, accounting for three victories.
Otherwise, it has been somewhat bleak for the Stars and Stripes. International players have won the last three tournaments. Europeans dominate the world rankings, claiming the top 4 spots.
There are four Americans in the top 10: Tiger Woods (fifth), Phil Mickelson (sixth), Steve Stricker (ninth) and Matt Kuchar (10th). However, the best American at this point might be Bubba Watson. Currently 15th in the rankings, Watson won at Torrey Pines and placed fourth in Match Play.
The Americans have a chance to step up this week at the Cadillac Championship at Doral. This was yet another course that Woods once owned. He's won six times at Doral.
However, all bets remain off for Woods again as he struggles to find his game.
Mickelson also has had some success at Doral, winning in 2009. But he hasn't challenged after opening the season with a runner-up at Torrey Pines.
The Doral field of 69 players features only 25 American players, yet another indication how much our boys have slipped.
With the golf season heating up and the Masters around the corner, American golf could use a boost. Doral would be a good place to start.