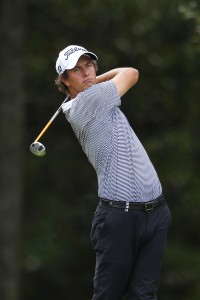 Who's hot: Adam Scott. Look who finally bounced back up the leaderboard at Doral. Scott placed tied for sixth, his first top 10 of the year. Scott switched to a long-putter, and voila, the putts started to fall. Putting clearly has held back Scott. He felt he had to do something.
"The game is built around putting. We all have our ups and downs with hitting," he said."Sometimes I've felt like I want to hit it badly so I can at least have a few one-putts, by chipping it close. A lot of weeks I hit 13, 15 greens and shoot even par. It's very frustrating."
Now 30, Scott isn't so young anymore. He's passed over that bridge of potential to unfulfilled potential. Perhaps, he found a solution with the long putter.
Who's not: Jim Furyk. Last year's player of the year is off to a terrible start. He missed cuts at the Sony and at Pebble Beach and hasn't placed higher than 33rd in his last three events. He was 49th at Doral. Furyk hopes this week's Transitions Championship will revive him. He is the defending champion.