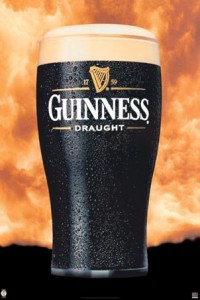 Special birdies and bogeys edition for the British Open.
Birdie: Darren Clarke. If you didn't feel good about Clarke winning the British Open Sunday, well, then you don't have a heart. Where to begin? Forget about the flat-bellies. We all can relate to a golfer with a big gut filled mainly with Guinness. We also can relate to a middle-aged man who at 42 grabbed what probably was his last opportunity for ultimate glory. And finally, we can feel good about a father who has been raising his two young children since the death of his wife Heather from cancer in 2006. You can be sure the tears and Guinness were flowing in Northern Ireland on Sunday night, and will be for quite some time. Cheers, Darren.
Birdie: Northern Ireland. After  Clarke won, Rory McIlroy sent out a tweet saying, "It's been four weeks since a golfer from Northern Ireland won a major." Indeed, the tiny little golf-obsessed country is on a roll, winning 3 of the last 5 majors dating back to Graeme McDowell's victory in the 2010 U.S. Open. And it isn't just Northern Ireland. As my fine Irish friend Mark Flavin proudly points out, if you include Ireland native Padraig Harrington's three major run, which began with the 2007 British Open, Irish golfers have won 6 of the last 17 majors. Well done, Lads.
Bogey: Luke Donald. Northwestern's very own came into the tournament with high expectations and didn't even make it to the weekend. That's two straight poor performances in majors (he finished T-45 in the U.S. Open) while being ranked No. 1 in the world. Much more is expected when you reach that perch. He needs a strong showing at the PGA Championship to quiet the critics.
Birdie/bogey: Phil Mickelson. It was great to see Mickelson make a run in a major and finally conquer some of his demons in a British Open. However, it was distressing to see him miss that short putt at 11. He has missed too many of those in his career. I'm betting it has cost him at least three majors.
Birdie/bogey: Dustin Johnson. Deserves credit for knocking on the door again at a major. However, once again, he derailed himself down the stretch with a double-bogey 7 on the par 5 14th, which should have been a birdie hole for him. He needs better control of his game to be able to seal the deal.
Birdie/bogey: American golf. On the plus side, Americans occupied 6 of the top 8 spots. On the negative side, Americans now have failed to win in the last six majors.
Birdie: Thomas Bjorn. Like Clarke, another feel-good story. After his heartbreak at Royal St. George's in 2003, a fourth-place finish for Bjorn earned him some measure of redemption.
Birdie: Davis Love III. Strong T-9 finish for the 2012 Ryder Cup captain. He now moves up to eighth on the U.S. Ryder Cup points list. If he keeps it up, Mr. Love will be a playing captain.
Bogey: Lee Westwood. Along with Donald, Westwood was the other major disappointment last week. The No. 2 also failed to make the cut. You also have to wonder what was going through his mind. He and  Clarke are tight. I'm sure he was happy for his old friend, but the majorless player has to be wondering if it ever will be his turn.
Birdie: Wind and rain at Royal St. George's. It looked brutal to play in it and even worse if you were a spectator. But it was terrific fun to watch on television. You want cold and snow for football games at Lambeau Field in January and wind and rain for British Opens in July.
Bogey: Rory McIlroy. A tough week became even tougher (T-25) when he said he doesn't enjoy playing in wind and rain. That's the Irish golfer equivalent of a duck saying he doesn't like water. He's going to get grilled for those comments.
Birdie: Tom Watson. Mr. McIlroy, go seek out  Watson for some advice. Another tip of the hat for the ultimate British Open player. A T-25 at age 61. Get that man a Guinness.