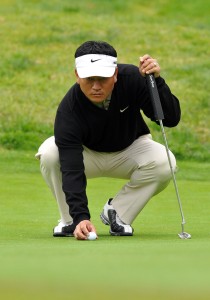 Birdie: K.J. Choi. The theme was how Choi's victory in the Players was for South Korea and Asia. That's true, but it also was a win for the good guys. Even though Choi struggles with English, his personality always shines through. He just seems like a down-to-Earth fellow who will gladly buy the first round.
Choi also has been described as a grinder, but that's not exactly accurate. Sunday's victory was his eighth on the PGA Tour. That's a significant number that goes beyond grinder territory.
Choi has been a contender in several majors, and it just seemed to be a matter of time before he bagged a big one. His time came Sunday. Good for him.
Birdie. David Toms. I'm guessing Toms didn't sleep well last night even though he had to be exhausted. The decision to go for the green at 16 backfired, and then the final "oh-no" putt during the playoff hole will cause him some nightmares in the upcoming weeks. Still, he has to be encouraged to discover that he has some game left at 44. A mental coach would advise him to think only about the terrific birdie on the treacherous 18th hole to force a playoff.
Birdie. TPC at Sawgrass. I know the course has its critics, and there is plenty of debate over whether the playoff should start at 17. But I love it. Those last three holes always produce incredible drama. It doesn't come much better than Sunday.
Bogey. Graeme McDowell. It hasn't been a good run for Irish players in the final round of a big tournament. McDowell pulled his version of Rory McIlroy by imploding with a 79 Sunday. He went from first to a tie for 33rd.
Birdie. Paul Goydos. What is it about the Players that brings out the best in Goydos? Another top 3 finish for the player who just missed in 2008.
Birdie. Over 40 players. ESPN.com's Gene Wojciechowski called the tournament "Champions Tour Lite" with Choi, 40, Toms, 44, and Goydos, 46, dominating the top of the leader board.
Bogey. Young guns. Geno and other critics also bemoaned the fact that none of the young guns stepped up at the Players. They appeared to be MIA.
Bogey. Luke Donald. It's hard to hand out a bogey to a guy who finished fourth. Nobody is playing more consistent golf these days than Donald, who moved up to No. 2 in the world rankings. But I know Luke, and I know he has to be frustrated that he hasn't parlayed these strong finishes into a victory or two in a stroke-play event. He wants trophies at this point.
Bogey. Slow play. I don't know about you, but why does it take a threesome comprised of the best players in the world five-plus hours to play 18 holes? I find it so tedious to watch.  I know other viewers had to feel the same way.
Bogey. Lee Westwood. Hope you enjoyed your weekend off. You weren't missed.
Bogey. Tiger Woods. Also hoped you enjoyed your weekend off. You were missed. Get well soon. Please.