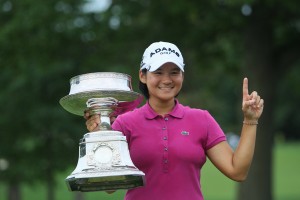 Birdie. Yani Tseng. If it is possible to win three majors and fly under the radar, then Tseng has done it. But no more. Her fourth major title at the LPGA Championship has caught everyone's attention. A resounding 10-stroke victory will do that to you. At age 22, she now is the youngest player man or woman to hit four majors.  And she isn't stopping there. With supreme power and a great short game, she could hit double-digit major totals by the time she's 25.
Even better about Tseng is that she seems to have a wonderful personality. The South Korean has learned English and came off delightful in her post-round interview on the Golf Channel. All in all, she looks to be the complete package. Good for her and the women's game.
Birdie. 22-year olds. Ah, to be 22 and be either Rory McIlroy or Tseng. Suddenly in the post-Annika Sorenstam-Tiger Woods era, the game looks brighter. Not that I'm completely writing off Tiger, but out of sight, out of mind.
Birdie. Erik Compton. While Tseng will be the big story in golf, Erik Compton's story figures to transcend and be the big story everywhere. He won his first Nationwide Tour tournament Sunday in Mexico. So what's the big deal? Well, he did it on his third heart. The 31-year old already has had two heart transplants. It's amazing that he is alive and/or even able to play 18 holes, let alone win a pro tournament. His story also will get bigger. With the victory, Compton is a lock to earn his PGA Tour card for 2012. All I can say is, wow.
Bogey. Michelle Wie. Remember when she was going to accomplish what Tseng has? Well, she finished tied for 72d at the LPGA. Obviously, she has a long way to go.
Birdie. Fredik Jacobson. Hey, it isn't often in this column that news about the LPGA and Nationwide Tours comes before the PGA Tour. Jacobson was a good story in his own right, winning the Travelers Championship. Coming off his strong showing at the U.S. Open, he kept up the momentum to secure his first PGA Tour victory.
Birdie. Patrick Cantlay. The UCLA freshman created quite a buzz by shooting a 60 in the second round. Alas, he stumbled with a 72-70 on the weekend to finish in a tie for 24th. Now there will be a lot of talk of whether Cantlay should turn pro. Cantlay says he will be staying in school. For now, anyway. That could change once the agents get hold of him.
Bogey. Jim Furyk. Yet another missed cut for last season's player of the year. What's going on, Jim?
Birdie. Kevin Streelman. Winfield (Ill.) very own had his best showing of the year with a T-6.