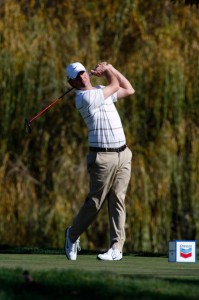 Birdie. Seve Ballesteros. There are few players in golf, or any sport for that matter, where if you saw them in action, you dropped everything and watched. Seve Ballesteros was such a player.
His death on Saturday morning overshadowed everything else last weekend. The game lost a true legend much too early.
Seve was golf's ultimate thrill ride. Watch Seve put himself in a jam and then somehow escape.
I loved this quote from Nick Price: "Most of us have a 100 ways to shoot a 66. Seve had 10,000 ways to shoot a 66."
Nick Faldo said, "I now would call him the Cirque de Soleil of golf."
Seve was a dashing, charasmatic character who brightened any tournament he entered. By the time I started covering golf in 1997, his glory days were gone. The magic had an expiration date.
But I still got to see the full force of his personality during the 1997 Ryder Cup in Spain. Seve transformed the one-sided event as a player and now he was Europe's captain on his home turf. He handled everything, right down to picking out the menu for the press room. He wanted to make sure we enjoyed Spain's finest cuisine. We did.
The thing I remember most about that Ryder Cup was that Seve was everywhere. He seemed to be about 12 people, as he blazed around in his golf cart from group to group. He willed his players to victory, and of course, they did.
The lasting image of Seve came in 1984 when he made the final putt to seal the British Open title at St. Andrews. He pumped his arms and saluted the crowd. Here's the link. It's Seve at his best.
Birdie. Lucas Glover. He returned to the winner's circle by winning a playoff in the Wells Fargo. Prior to last week, we hadn't heard much from Glover since he won the 2009 U.S. Open.
Birdie. Jonathan Byrd. Lost to his old college teammate, but nonetheless, he enjoyed a good week.
Birdie. Kevn Na. Mr. 16 has bounced back nicely with some solid showings. He bagged a T-5 this week.
Bogey. Rory McIroy. The defending champ missed the cut and then headed back for Europe. He is skipping the Players Championship.
Bogey. Phil Mickelson. Went into the weekend with a chance, but blew up with a 74 on Saturday.
Bogey. Stewart Cink. Speaking of not hearing much from a major winner, Cink hasn't done much since winning the 2009 British Open. He was in contention Sunday, but closed with a 74.
Bogey. Dustin Johnson. Shot 72-79 to miss the cut. What happened, Dustin?
Birdie. Tom Lehman. Won in a playoff over Peter Senior to win the Regions. It was his third victory in seven Champions Tour starts this year.