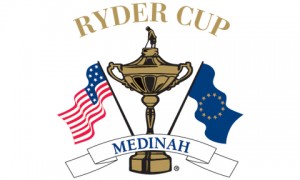 In this week's golf report for Crain's Chicago Business, I have a post on while it may be U.S. Open week, the time has arrived to start thinking about what you need to do if you want to be on the grounds at Medinah Country Club for the 2012 Ryder Cup.
Sign-up for the ticket lottery begins Monday. Applications will be accepted through mid-September. The official random draw will take place shortly thereafter.
Then in July, Medinah, though the Ryder Cup website, will start to take applications for volunteer positions. Those workers will be able to watch the action once they finish their shifts.
In this week's Inside the Leather video tip, Steve Olken and I debate about the set-up for the U.S. Open. Mr. Olken says he loves to watch the pros struggle in the tough conditions. I think sometimes it gets a bit over the top. Nobody cheers for pars.
In this week's video tip, short-game expert Joe Bosco has some excellent advice on how to hit those challenging shots out of the sand.
Here's the link to the golf page.