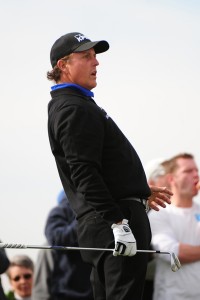 Who's hot: Unlikely winners. Add Gary Woodland to the roll call of unlikely winners on the PGA Tour this year.  He joins Jhonattan Vegas and D.A. Points on the list. Heck, let's even throw in Mark Wilson, who has won twice this year. Even though Wilson had two PGA Tour titles to his credit, he came into 2011 ranked outside 200th in the world. On that note, Sal Johnson from golfobserver.com compiled a list of where this year's winners were ranked prior to winning their tournament. Only Match Play champ Luke Donald was in the top 10; and only two were in the top 35. Here's the list:
Mercedes winner Jonathan Byrd was ranked 121st before win, now is 57th
Sony Hawaii winner Mark Wilson was ranked 237th before win, now is 52nd
Bob Hope winner Jhonattan Vegas was ranked 187th before win, now is 72nd
Farmers Insurance winner Bubba Watson was ranked 33rd before win, now is 17th
WM Phoenix winner Mark Wilson was ranked 91st before win, now is 52nd
AT&T Pebble winner D.A. Points was ranked 167th before win, now is 85th
Northern Trust winner Aaron Baddeley was ranked 224th before win, now is 70th
WGC Accenture winner Luke Donald was ranked 9th before win, now is 3rd
Mayakoba winner Johnson Wagner was ranked 377th before win, now is 188th
Honda winner Rory Sabbatini was ranked 102nd before win, now is 50th
WGC Cadillac winner Nick Watney was ranked 31st before win, now is 14th
Transitions winner Gary Woodland was ranked 153rd before win, now is 53rd
Will the trend continue this week? Don't bet against it.
Who's not: Phil Mickelson. Mickelson got off to a solid start, finishing second at Torrey Pines. However, he hasn't done much since then. Only 1 top 10 in his last five tournaments. He placed 55th in the Cadillac Championship, finishing with a horrible 76 on Sunday. Mickelson begins his run-up to the Masters at the Arnold Palmer this week. Is his recent poor play an indication we shouldn't expect much from him at Augusta? Hardly. Last year, he had only 1 top 10 in seven tournaments going into the Masters. And he walked away with another Green Jacket. Just the same, I'm sure Mickelson wouldn't mind a strong showing this week.