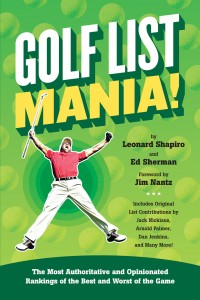 Summer finally has settled in here in Chicago. We've used up three of our 10-12 "glorious" days we receive each year this week.
As a result, I'm fully cranked about golf. Watching the Scottish Open now on the telly. The new course looks very cool. Nothing like the sight of Scotland to get you going in the morning. Then later this afternoon I might play a few holes with my son, who is very excited about the new clubs he received for his birthday.
With this giddy golf feeling going, I thought it would be a good idea to run an excerpt from my new book, "Golf List Mania." Co-written by legendary scribe Leonard Shapiro, it is a book of 120 lists on everything and anything in golf. Jim Nantz did the foreward and we have guest lists from Palmer, Nicklaus, Player, among others.
Here's the link on Amazon.
The following is one of my favorite lists. It's my book and I get to make up the rules.
Golf Would Be Better If…
Beer was calorie-free.
Beer made you play better.
Riding a cart burned 6,000 calories.
Every course looked like Pebble Beach.
Every course felt like Ballybunion.
Every course cost no more than your local muni.
The over-the-move was the key to a successful swing. (I'd have won 10 Masters).
You got rewarded for hitting a tree.
All balls skipped through the water.
No wait on the first tee at 9 a.m. Saturday.
Every public course looked like Torrey Pines.
Every locker room looked like Seminole's.
You never missed from 18 inches.
Your wife liked to play as much as you do.
Hot dogs were considered health food.
You actually had a clue which way the putt broke.
You actually had a clue how to play out of the bunker.
You got to play one more round with your father.
All of our children enjoyed and honored the game as much as we do.
You got to reach a par 5 in two at least once per round.
The pros played 3 ½ hour rounds on Sundays.
Butch Harmon looked at your swing and said, "Perfect."
Each foursome included Ernie Banks. His motto for golf is "Let's play 36."
Each foursome included SI swimsuit model Kathy Ireland, an avid golfer.
Pro Vis cost 4.50 per dozen instead of $45.
You had your own personal clubfitter.
You got to wear the green jacket for a day.
Ben Hogan said to you, "Nice shot."
Everyone played like they do in Ireland and Scotland: Fast.
The slow group always let you play through.
At least once per round you got to hit a drive 300 yards.
You actually were able to spin the ball back to the hole.
Golf was indeed better than sex.