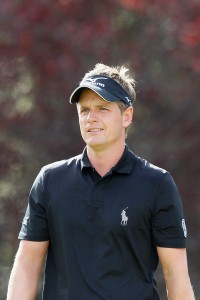 There are tournaments in golf, and then there are the majors. Luke Donald knows the difference.
Nobody has played better in 2011 than Donald, who won again Sunday at the Scottish Open. Yet the only person everyone talks about is that kid named Rory.
"Winning majors is a big deal for me and for the media and for the fans. With a 22-year-old winning a major and winning it so successfully, it deserves the attention," Donald said.
"I'm not a flashy player. I get it done and sometimes I do it the hard way, but in the last three or four months no one has really performed better than me. But sometimes, when you win a major like Rory did, in that fashion, it eclipses everything else."
Indeed, it does. Careers are defined by the majors–whether you win or lose. Donald is longing to write his chapter.
Donald comes into this week's British Open not only as the world's No. 1 player, but also as the "best player never to win a major." Perhaps he shares the latter designation with Lee Westwood.
Regardless, both players would like to shed the label this week.  However, unlike Westwood, Donald really hasn't made a solid run to win a major.
The record shows Donald placed third in the 2005 Masters and the 2006 PGA Championship. But he never was in the conversation on the last day. He went off with Tiger Woods in the final group of the 2006 PGA at Medinah, and clearly wasn't ready for prime time, shooting a 74 on Sunday.
Donald did have a decent Masters, finishing fourth. However, carrying the No. 1 ranking into Congressional, he stumbled badly with a T-45.
Now Donald is among the top three favorites this week. At age 33, he seems to be poised to take his career to another level. After shooting a 63 on Sunday, his game seems to be peaking.
This appears to be his time. Will he make the most of it?