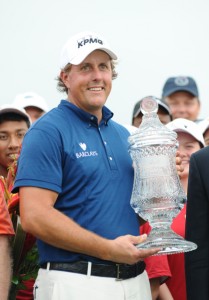 Birdie: Phil Mickelson. Now that's more like it. After a mostly mediocre 2011, Philly Mick reminded everyone who will be the favorite this week at Augusta. A nifty 63-65 over the weekend got the job done at Houston.
It was great to see Mickelson, in his clean white slacks, seize control of the tournament. Golf needed that after a series of mostly unknown winners.
Mickelson has been saying all year that he is building towards Augusta. Now we all can believe him.
The last time Mickelson won the week before the Masters was in 2006. He promptly went out and won his second Green Jacket. Will he pull a repeat in 2011?
I probably would have said no prior to last week. Now you'd almost be foolish to bet against him.
Bogey. Tiger Woods. Dropped to seventh in the world rankings. Mickelson, now third, is ranked ahead of him for the first time since 1997. Tiger's just another guy at this point.
Birdie. Stacy Lewis. Showed a lot of guts in overtaking world No. 1 Yani Tseng to win the Kraft Nabisco. Her first victory comes in a major. Not bad.
Bogey. Yani Tseng. Who expected her to lose after going into Sunday with a two-shot lead? She sunk with a 74.
Bogey. Michelle Wie. She had a shot on Sunday, but a closing 75 dropped her to sixth. Still not ready for prime time.
Birdie. Scott Verplank. The classy pro waged quite a struggle against Mickelson. Nothing wrong with a 68 on Sunday and a tie for second.
Birdie. Matt Kuchar. Another top 10 for Mr. Top 10. He placed eighth. Don't forget to include Kuchar in your players to watch this week.
Bogey. Ernie Els. Unlike Mickelson, he didn't bag any momentum with a tie for 51st finish.
Bogey. Anthony Kim. I had hopes for Kim after a 64 on Friday. However, he couldn't sustain it. A 73 on Sunday dropped him to 13th.