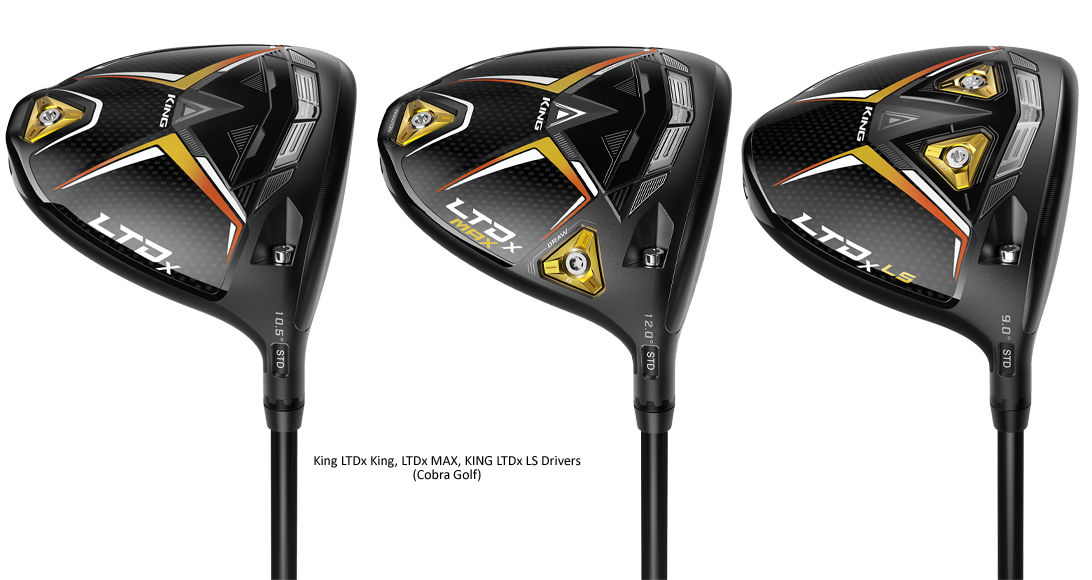 With the center of gravity on the neutral axis the new Cobra King LTDx driver produces low spin with lots of forgiveness. There are also two other members of the family, the LTDx LS weighted for very low spin and the LTDx MAX with draw bias weighting.
Fast Facts Cobra King LTDx Drivers
Multi-material clubhead
Carbon fiber crown
H.O.T. Face
PWR-COR weighting
Redesign T-bar chassis
Adjustable hosel
Stock grip: Crossline Black/Silver
Available Feb. 11, 2022 each version priced at $499
King LTDx
Game-improvement category
CG on head's neutral axis
14g internal weight MIM, 5g CNC sole weight
15g back weight
Stock shafts: Tensei AV Raw White 65, HZRDUS RDX Blue 60, HZRDUS Smoke iM10 60, UST Helium Nanocore
King LTDx MAX
Super game-improvement category
Draw bias
Interchangeable sole weights rear and heel
Stock shafts: Project X HZRDUS RDX Blue 60, HZRDUS Smoke iM10 60, UST Helium Nanocore
King LTDx LS
Better-player category
Low spin
Interchangeable 10g & 3g sole weights
Stock shafts: Tensei AV Raw White 65, Project X HZRDUS RDX Blue 60, Project X HZRDUS Smoke iM1060
WYNTK:
Cobra's new King LTDx family has something for every skill level starting with the King LTDx featuring placement of the head's center of gravity on the neutral axis which along with an MOI value of 5200 makes it very forgiving. The E9 variable thickness face construction used for several years is gone and replaced with Hot Optimized Topology. This H.O.T. design adjusts face thickness in each of 15 zones that were found by testing thousands of simulated impacts.
PWR-COR Technology is Cobra's new way to get as much weight forward and low in the head using internal and external multi-material weights.
Commenting on the drivers Tom Olsavsky, Vice President of R&D said, "The LTDx driver lineup reflects our team's continued dedication to innovation and improved performance. With the introduction of PWR-COR and H.O.T FACE technology, our engineers have, yet again, developed innovation that improves CG and MOI while making the face hotter and more forgiving. The resulting LTDx family of drivers are the best we have ever produced, and the three distinct driver models ensure that every golfer can achieve optimized performance for their game. We look forward to seeing the LTDx on TOUR and also in the hands of amateurs and weekend warriors at courses globally."
The LTDx LS model has its weight forward close to the face which is an aid for producing the low spin flight wanted by high swing speed players and the anti-slice designed LTDx MAX can be a big help to for straightening out ball flight for those with predominately left to right.
Also introduced were fairway woods ($299) the same PWR-COR and H.O.T. FACE design as the drivers in LTDx, LTDx MAX and LTDx LS versions. King LTDx hybrids are $249 feature an L-cup stainless steel face and the effective hollow split rails on the sole.