Rene Stutzman of the Orlando Sentinel reports on a lawsuit by the private managers of Mayfair Country Club (Sanford, Fla.) claiming that the City of Sanford made material misrepresentations that the course was a Donald Ross design when the parties entered into a management contract four years ago.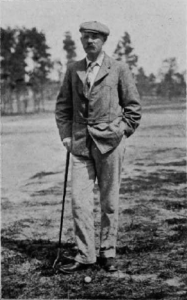 Maece Taylor Inc., which rescued and revived the course four years ago after the city had a falling-out with its previous operator, says its deal with the city is invalid because city officials lied about who designed the course in the 1920s.

The 32-page lease says the course was the work of well-known designer Donald Ross, an icon of American golf in the 1920s and 30s. He designed more than 375 courses, including some of the most revered in the nation: Pinehurst in North Carolina and Oakland Hills near Detroit.

"He is a legend of golf-course architecture," said Michael J. Fay, one of the founders of the Donald Ross Society. "It's not a Donald Ross course. It's nothing like a Donald Ross course," he said Monday. "Does it have some similarities? Yes, it's 18 holes."
When asked to respond, the city countered that the lawsuit was retaliatory litigation by a management company that is behind on their lease payments.  However, the city has no hard evidence to prove that Donald Ross actually did design Mayfair Country Club.
It seems clear that Ross's notoriety as a golf course architect certainly carries enough cachet to merit a premium in contract negotiations, membership sales, or greens fees.  So if a party makes material misrepresentations regarding its property as being a Ross design, it should be held liable assuming those claims can be proven.
All in all, an interesting case.  In some ways, it bolsters the argument that golf course architects are artists.  Would this case be any different if a city leased a counterfeit Picasso or Van Gogh to a museum?