(As a former player and All-American for the University of Washington, the events of the 2016 National Championship have filled my heart with immense joy!)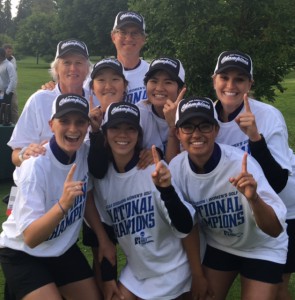 The University of Washington Huskies won their first NCAA National Championship last week at Eugene CC. Coach Mary Lou Mulflur (who I also played for) won the title after 33 years of coaching the program.  If you missed the Golf Channel's coverage, I highly suggest watching the replay.  It was some of the most intense, thrilling and nerve-racking golf I have ever observed.
Here's what we can learn from the 2016 DAWGS:
–99% of competitive golf is heartbreak, failure, hard work, grit and tears.  It's the other 1% that makes it all WORTH IT!
–ANYTHING can happen in match play.
–FUN Under Pressure.  Enjoying the process, the struggle and the grind pays off. (Thank you Assistant Coach David Elaimy for making that happen).
–"Over night" success often takes 3 decades.
–SHORT GAME. SHORT GAME. And. . . more SHORT GAME.
Congratulations again to the 2016 Univ. of Washington Women's Golf Team. Thanks for the inspiration!
(Below) Flash Back: The 1997 UW Husky Team (my Senior year. . .yes, I'm that old!) at the NCAA Regionals in Tucson, AZ after winning a playoff to earn the last spot into the NCAA Finals.  Lining up a put at the final round of the Edean Ilandfeld Husky invitational to shoot 65 at Sahalee CC.  Great memories!
Dodie Mazzuca is the Director of Instruction at Troon Country Club in Scottsdale, AZ (Nov.-April).  She also teaches golf in Santa Cruz, CA (May-Oct.)  www.DodieMazzuca.com
…and a proud Husky!