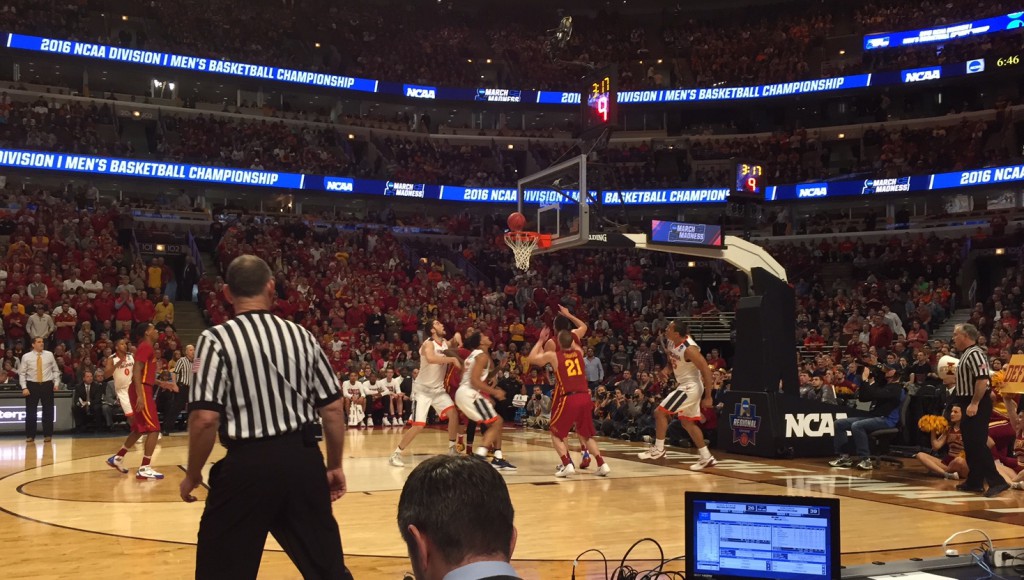 The last time Virginia went to the Elite Eight, it was playing a virtual road game. Kansas fans filled a Kansas City arena in 1995 to see their No. 1 seeded Jayhawks rock, but left stunned and disappointed.
With the No. 4 Cavaliers facing Arkansas, ticket prices for that Elite Eight matchup dropped like stocks in 1929 as disappointed Kansas fans headed home, done with basketball.
At the United Center in Chicago on Friday, it was pretty much the same deal crowd-wise. Virginia was the No. 1 seed in the MIdwest, but was facing No. 4 Iowa State and the entire town of Ames, Iowa, based on the decibels on West Madison Street.
The result was the same. In another Midwestern road environment, Virginia took down the Cyclones 84-71.
"It was like a home game for them," said Cavs guard Malcolm Brogdon, the ACC player of the year. "But that's something that fires us up as competitors. We got to the point where we were playing well during away games towards the end of ACC play, so we embraced it. It was a challenge, and we were able to overcome it."
Virginia will face Gonzaga or Syracuse on Sunday at the United Center. And the Cavs (29-7) will be favored to reach the Final Four for the first time since 1984. After being stopped in Sweet 16 and the Round of 32 by Michigan State the last two years, Virginia has its deepest NCAA run in 21 years.
"We're not where Carolina and Duke are," UVa coach Tony Bennett said. "We're scratching and clawing and thankful for everything that comes our way, and you just show up and you keep knocking. Very thankful. And now we're prepared to go after it for the next one."
When Virginia jumped on Iowa State (23-12) early and often, this looked like it might be another lopsided Sweet 16 game.
The Cyclones feel behind 12-3 early and trailed by as many as 17 points in the first half.
"We weren't good enough defensively in the first half,"  Iowa State coach Steve Prohm said. "When you get behind 10 with them, you've almost got to be perfect."
But the Cyclones, bolstered by the vocal support of rooters who had trekked east on Interstate 80, kept hanging around.
"It's got to be one of the top-five fan bases in the country," Prohm said. "Today was probably three quarters Cyclone fans, and you're disappointed for them. You're disappointed for everybody part of Cyclone Nation and Iowa State today."
Down by double digits from 12-3 to 49-40, Iowa State cut the lead to seven, 51-44.That was progress. And it was exciting for the Ames gang, which made a deafening roar in the United Center.
But it was misleading, and not an indicator of future results.
Cyclones star Georges Niang was as good as advertised. He scored 30 points on 11-for-20 shooting and had eight rebounds in a heroic performance.
But Virginia, led by Anthony Gill (23 points, 8 for 10), was, and is, the more talented team. It was quicker. Had better shooters. A more balanced offense.
And most of all, Virginia was relentless on defense. Niang adjusted well. But he was working overtime for scoring chances on too many possessions. And he got in foul trouble.
"That was frustrating," Niang said, "but this is do or die, win or go home, so I really just had to figure out a way to get through it. I'm just bummed that we couldn't continue this run."
Meanwhile, Virginia took advantage of its mulitiple offensive options when it had the ball.
There may not be as many people in the United Center on Sunday—notably Bulls coach Fred Hoiberg, the former Iowa State coach who wanted to watch his recruits.
But the people who do show up at the UC are going to see a Virginia team that's capable of continuing to dance in Houston next week.
——-
Follow me on Twitter @HerbGould