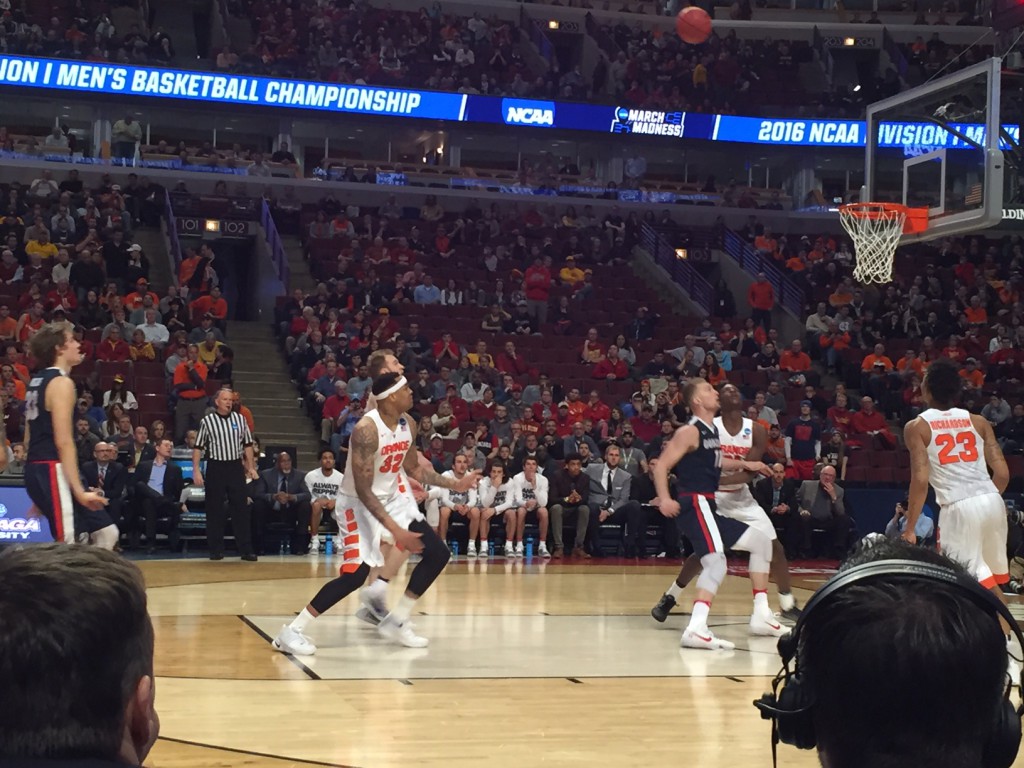 The field of 68 is down to its Elite Eight. It's a chalk-laden group with an East Coast bias.
All four No. 1 seeds will play this weekend. North Carolina, Kansas, Oregon and Virginia will be joined by two No. 2 seeds, Villanova and Oklahoma.
All four ACC teams won on Friday. They'll face each other on Sunday, assuring the Atlantic Coast Conference of at least two Final Four berths.
"Our league is tough," Syracuse coach Jim Boeheim said. "I  learned a long time ago that it's a foolish game to say one league is better than the other. There's just too many variables. I think the top conferences are very, very good, and it's an imperfect system to say, well, they did better in the NCAA Tournament. You can use that, but it's very difficult."
Still, the NCAA tournament is an awfully good measuring stick.
On the other side of the bracket, two Big 12 teams, Kansas and Oklahoma, both could reach the Final Four. To do that, they'll need to weather tough battles with Oregon (Oklahoma) and Villanova (Kansas).
Remaining alive are only two so-called Cinderellas—No. 6 Notre Dame, which squeaked past Wisconsin 61-56 in Philadelphia, and No. 10 Syracuse, which rallied to stun No. 11 Gonzaga 63-60, in Chicago.
The Irish and Orange are Cinderellas in seed number only, of course. Syracuse was a five-point underdog to Gonzaga in the eyes of Las Vegas oddsmakers, but both the Orange and the Irish are accomplished, high-profile programs—even if they will be expected to bow out on Sunday.
Syracuse (22-13) basically trailed most of the game against the Zags (28-8), in keeping with what has been an improbable journey.
The Orange were down by nine, 57-48, with 6-1/2 minutes to play before battling back.
Boeheim served an early-season suspension in which the team faltered. The Orange looked lackluster again at the end of the season, when they lost five of six—and drew catcalls when they received an NCAA tournement bid.
"It's been a fun ride," Syracuse guard Trevor Cooney said. "Certain things have happened, but this group has stayed strong and we're fortunate to have great coaches to lead us in the right way, and everyone has just come together."
And now, here they are, one more improbable win away from the Final Four.
"That was a tough one to lose, especially when we battled our hearts out,'' Gonzaga coach Mark Few said. "Obviously, it hurts, but we're really proud of what happened [this season].''
It was a heartbreaking way for the season to end for Gonzaga. The Bulldogs have gone to 18 straight NCAA tournaments, and had reached the Elite Eight twice before, in 1999, when their tourney streak began, and last year, when it feel to eventual national champion Duke in the Elite Eight.
Meanwhile, other unheralded small schools such as George Mason and Butler have reached the Final Four and outdone the Zags, arguably the most venerable Cinderella. After being in position to beat Syracuse, Gonzaga missed another chance to reach the Final Four.
Instead, that challenge goes to Syracuse, which will have a tough assignment. Virginia, the top seed in the Midwest, is playing with a full deck, and playing like it means business.
Syracuse pulled out all the defensive stops. Its vaunted 2-3 zone befuddled the Bulldogs for long stretches. And when Gonzaga seemed to have solved the zone, the Orange's desperate full-court press left the Zags on their heels again.
—–
Follow me on Twitter @HerbGould