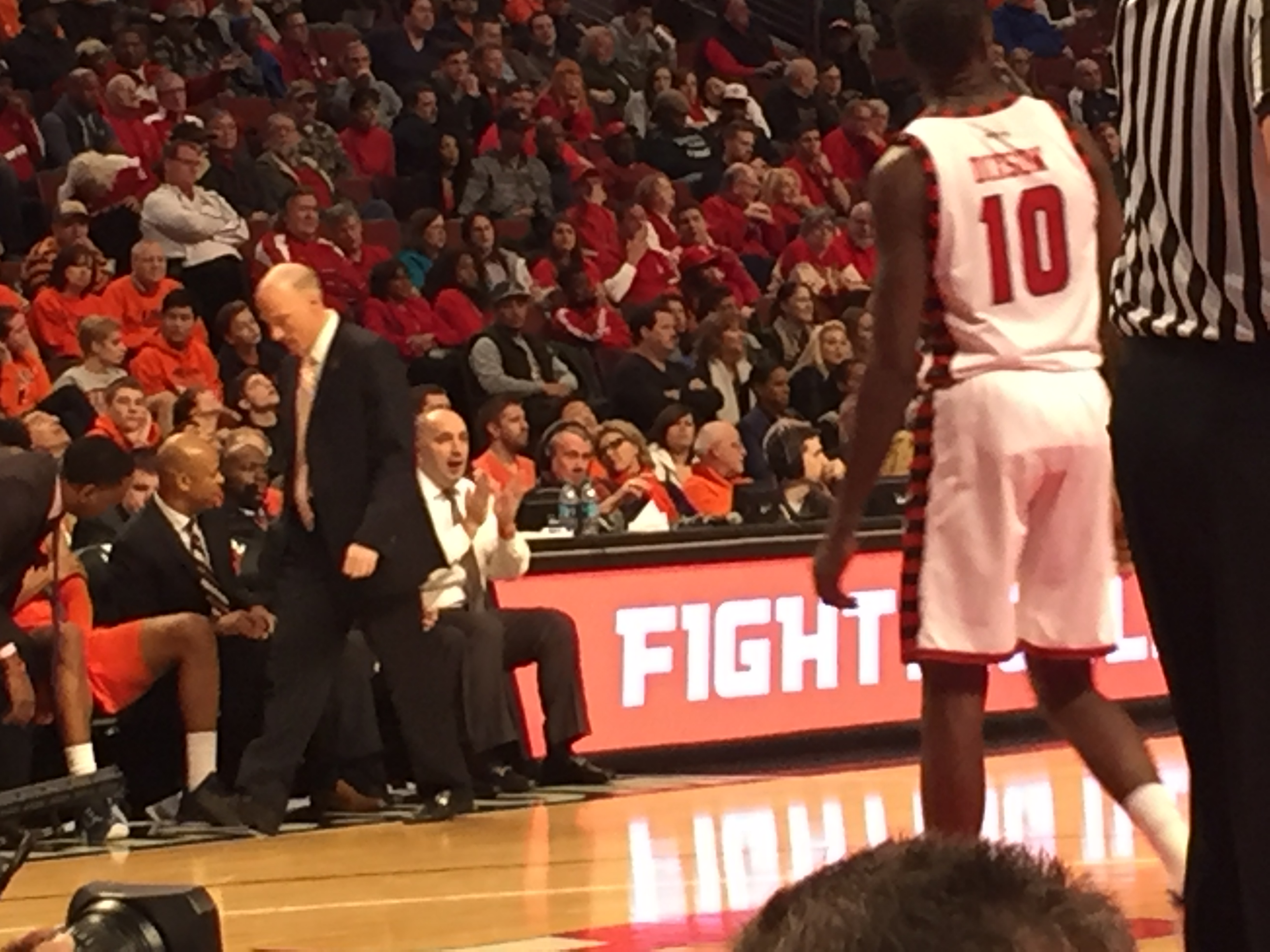 You've probably heard about the Curse of the Bambino, which supposedly explained the Boston Red Sox' long World Series drought.
You undoubtedly know about the nightmarish Curse of the Billy Goat.
But you may not be familiar with the Curse of the Chief.
Chief Illiniwek did his last dance in 2007. Since 2008, the two sports that matter most at Illinois, football and men's basketball, have been bumping into all kinds of trouble.
The travails in football, which has had an uncertain ride for decades, have been about the way things happen as well as the won-lost record.
In his last year (2011), Ron Zook won his first six games, then lost his last six, the famous "six of one, half a dozen of the other'' season.
Despite earning a second straight bowl trip, something Illinois had not done in 20 years, Zook was cashiered.
In his place came Tim Beckman, whose three-year run was marked by myriad  public-relations gaffes followed by a startling dismissal amid allegations of player abuse.
The strange doings in football during the last several years, though, have only served to keep the spotlight off of basketball, where Illinois has fallen on hard times after a long run of consistent success.
How to explain this?
A dyed-in-the-wool member of Illini Nation that I know, a true orange-and-blue believer, attributes it to the Curse of the Chief. I'm sure there are many others in that camp.
A point against the curse: After the Chief was banished in the spring of 2007, the Illini played in that year's NCAA tournament. And the football team went to the Rose Bowl that fall. So the curse, if there is one, didn't actually kick in until 2008.
Since then, though, something has been awry in Central Illinois.
Football has continued its pattern of mixed success halted by false starts, and added the discomfort of Beckman. And basketball has fallen into an unprecedented stretch of troubles since the NCAA forced the retirement of Chief Illiniwek.
Note: I am not pro-Chief. If a Native-American group objects, I believe their objection should be honored, particularly at a state university. I do find it odd that the Seminoles and Blackhawks carry on while Chief Illniwek was banished. But it's always complicated at Illinois.
For years, when the NCAA heat was building, I used to tell my Illini friends to change the nickname to Eagles, Hawks, Falcons. Put the mascot in a bird costume and they could have danced the night away. But no.
That said, the struggles in basketball since the Chief's last dance are remarkable. Which is why my Illini Nation friend, and others like him, have elevated the situation to a Curse.
The case for the curse is strongest when it comes to Illini basketball's seemingly endless injury situation.
Against UIC at the United Center on Saturday, big bodies Leron Black and Mike Thorne Jr., who would have been huge in the paint, were out with knee injuries.
As a result, Illinois was reduced to winning a troublesome 83-79 nailbiter over the Flames before a meager crowd of 5,151.
That said, Illinois will take the victory and move along.
"Winning sometimes can be a deodorent," coach John Groce said. "It can hide what  you stunk at. We want to find the things we need to get better at,  and we will get better."
At 6-5, Illinois is not inspiring Illini Nation, which was not thrilled at struggling past the rebuilding Flames (1-6). Both teams leaned hard on freshmen.
"It's been a little crazy,'' Groce said of the injury onslaught. "They're very odd ones. They have nothing to do with the training. If they did, I'd make an adjustment. It's been some bad luck and some quirky injuries. They're not the typical basketball injuries.''
Michael Finke, a 6-10 freshman, and Jalen Coleman-Lands, a 6-3 freshman, had encouraging performances. Freshman guards Aaron Jordan and D.J. Williams showed their youth.
"[The injuries] have led to more opportunities for four freshmen that are going to be really good,'' Groce said. "They're doing some good things now. They're going to get that consistency because they're counted on more. That's a good thing for not only this year, but for our program.''
Despite his optimism, this is shaping up as a difficult season. It didn't help that earlier, Kendrick Nunn missed the first five games of the season after thumb surgery.
Already lost for this season and last season is point guard Tracy Abrams, (knee and achilles), who may return next season. If Abrams had stayed healthy, Illinois might not have so many NCAA misses. And the angst about Groce might be so great.
In the last eight years, Illinois has gone to the NCAA tournament three times. When Bruce Weber started that streak by missing the Big Dance three times in six years, he was fired.
Barring an amazing turnaround, Groce will miss the NCAA tournament for a third straight year. Illinois hasn't gone uninvited to three straight Big Dances since Jimmy Carter was in the White House.
Since the tournament expanded to 64 teams, it had only missed back-to-back NCAAs once before, in 1991 and '92, and that in the aftermath of NCAA sanctions.
Mix all of the Illini Nation unrest in with a new athletic director coming down the pike in Champaign at some point, and the Illini basketball program clearly is going through an unaccustomed amount of turmoil.
Is it the Curse of the Chief?
After his press conference, I asked Groce if it has occurred to him that there's a Curse of the Chief.
"No!'' he said, roaring with laughter. "But I can see [Illini Nation] saying that, though.''
Between the injuries and some agonizing near-misses on high-level recruits, Groce has had a rough go of it.
Does that mean he's not the right coach to get Illinois back on track? Or is the Curse of the Chief making life difficult for him?
Time, and the new athletic director, will tell.