Now is the time.
Every April, which is the cruelest month in Chicago golf, I vow not to go through another winter without improving my golf swing.
I tromp through the cold and mud, muttering about how the ball doesn't roll in April, denying me joy on the golf course. In the back of my mind, though, I know the problem is my limited swing, which doesn't allow me to hit the ball better.
This year is different.
A new golf training facility, Catalyst Golf Performance, has caught my eye. It has opened on the North Side of Chicago, not far from our home. Its comprehensive program stresses fitness and flexibility as well as golf mechanics, which offers the prospect of diminishing my aging Social-Security-eligible body's aches and pains even if the program doesn't reduce my golf scores.
I am confident it will do both, though.
I have never done well with lessons. I either don't stick around long enough, don't connect with the teacher well enough, don't do the follow-up practice seriously enough. I try too hard; I get frustrated. I move on, disappointed.
This time it will be different. Because I will be more committed. The twin goals of hitting the golf ball better, and feeling better overall for any types of activity, are compelling. It's a last chance—but in a good way.
Let the journey begin. . .
&&&&&&&&&&&&&&&&&&&&&&&&&&&&&&&&&&&&&&&&&&&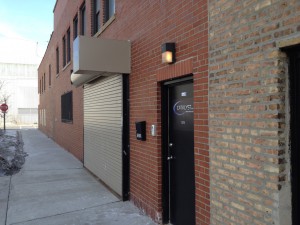 To say the Catalyst Golf Performance Center is new would be an understatement. When I opened the door, the paint smell was so pungent, and the black paint on the metal stairs was so shiny, that I stopped and touched it with my finger to ensure that it was safe for my size-10 Eccos.
It was dry and ready to go.
At the top of the stairs, the door opened to a world-class golf learning center. There were two state-of-the-art hitting bays, complete with the video/computer Trackman Launch Monitor System and an abundance of auxiliary monitors.
The rest of the main room was a 1,200-square-foot chipping and putting green, covered with a sophisticated artificial turf that gave a true roll. There was even a nice undulation on the path back to the rest of the facility.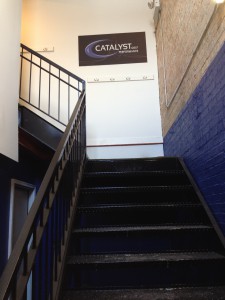 I tripped walking over it the first time. It wouldn't be the last time, either.
Picking up a putter, I rolled a couple of balls, and dropped in a pair of 15-footers while Michael Napoleon, the director of golf instruction, watched with a smile. I always like to make a couple of putts before people see my swing, which is amusing in a different sort of way.
Beyond the golf instruction room were two fitness areas, complete with free weights, several other workout devices of varying sophistication and a pool table—in case any Ryder Cup participants happened by.
Tucked in the back, Catalyst also has locker rooms. Downstairs, there's a marvelous learning area for the youth program that contains everything from pre-school toys to Fred Flintstone plastic clubs to miniature techno drivers.
It was difficult to believe this was all contained in a non-descript older building in a light-manufacturing neighborhood on the North Side of Chicago. Fittingly, it was across the street from a Home Depot. Clearly, this was a neighborhood for all kinds of improvements.
After the initial tour, I underwent a fitness evaluation. Catalyst is affiliated with the Titleist Performance Institute, and uses many of its evaluation procedures and suggested workouts to address an individual golfer's fitness issues.
Basically, flexibility is a huge part of making a golf swing. So is balance. Throw in the usual coordination and strength—and you have some key building blocks to hitting a golf ball.
And with the evaluation, the Catalyst staff can understand the key stumbling blocks to not hitting the ball.
This evaluation included a series of flexibility basics that included things like how far I could turn my shoulders, turn my hips, how well I could stand on one leg, keep my balance with my eyes closed.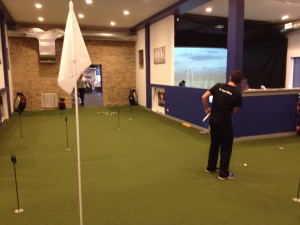 Some of the upper-body stuff wasn't terrible. Lower body? Forget about it.
And then, it was on to the hitting bay, where the Track Man performed a more golf-specific series of tests.
These numbers were not good at all. They weren't a shock, though. I'm very aware that my "unorthodox'' swing has deteriorated with age.
I always knew my swing mechanics were not good. People who hardly play golf routinely have gotten up and hit the ball much farther than me. To be competitive, that has forced me to rely extremely hard on my putting-and-chipping strengths.
For the longest time, I still was able to fashion a short game. From 100 yards and in, I generally was able to put the ball in the vicinity of where I wanted it.
But at 62, and coming off prostate surgery, that has been increasingly difficult. My wide-open clubface, offset by an out-to-in path, fueled by all-arms, no-body power source, no longer has been getting the job done.
I am painfully aware of this thanks to the advent of the iPhone and other easy-to-use devices. Seeing my swing makes me very uneasy.
Confronted directly by that evidence, the choices were limited: Give up or downsize my interest in the game. Accept my increasing limitations and enjoy the simple pleasures of the game when I finally get near the green. Or fight back against the curses of old age—diminished swing speed and flexibility—by plunging in at a place like the Catalyst Performance Institute.
I'm not quite ready to give up or downsize. On our first trip to Scotland last summer, my wife and I found that we really enjoy playing the old seaside courses, and really love the whole Scottish experience. Aided by the serious that roll links course afford, especially during the Drought of 2013, I was able to play to my strengths—and have a great time.
But watching that bizarre power-sapping swing of mine on the little videos, I kept thinking how much more fun the experience would be if I could improve that swing.
I know I'm never going to have a great swing. But if I could hit the ball a bit better with some improvements in mechanics and flexibility, the return would be very much worth the investment. Adding in the potential to feel better in general because my body would work better, I decided to jump into the Catalyst experience. With both feet.
NEXT: Touching your toes—and all bases—in the first halting steps toward a better swing.