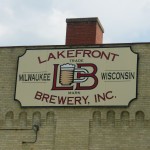 Even if you're not from Milwaukee, you ought to know about Lakefront Brewery, a micro-brewery that features a great tour and great beer, including a ground-breaking gluten-free beer. As a longtime home brewer myself, I can tell you Lakefront is brewing up some seriously good
fermented beverages. And the tour that owner Russ Klisch and his staff con
duct also is a fun and enlightening treat.
The full story. . .
MILWAUKEE—After Russ Klisch graduated from college in 1981, he started home brewing, and a friendly rivalry developed with his brother, Jim. Each tried to outdo the other, much to the delight of their thirsty friends.
"They started telling us, `You should open a brewery,' '' Klisch said. "When you're 20-something, you believe them.''And so, in 1987, the Lakefront Brewery was born—in 55-gallon batches. That's about 22 cases at a time.
Today, Lakefront regularly brews eight to 10 beers, ranging from wheat to stouts, that are sold in 35 states and Canada. It also turns out six to eight seasonal beers, and expects to produce more than 15,000 barrels (nearly half a million gallons) this year.
Its hottest seller is New Grist, a gluten-free beer made from sorghum and rice that accounts for about 25 percent of its production. The New Grist didn't bowl me over, but it's an admirable breakthrough. And I've tasted much worse gluten-laden beer, generally from mega-breweries whose advertising tends to be much better than their beer.
As a longtime home-brewer who didn't listen to those friends who told me I should open a brewery—I was older than 20-something when I began—I can tell you just about every beer Lakefront turns out is seriously good—depending on your favorite styles.
You can see—and taste—for yourself at a tour of Klisch's Lakefront Brewery. Housed since 1999 in a quaint old brick building that was built in 1908 to house a Milwaukee Electric Railway and Light Co. power plant, it sits along the Milwaukee River, not far from the Bradley Center and the city's downtown.
Klisch and his staff operate one of the most entertaining and educational tours around. The tours cost $7, and four beers are included in the price of admission.The upstairs portion of the brewery feels like a vintage beer hall, with a long bar and an endless stretch of tables under a chandeliered, 25-foot ceiling. Tour-goers are encouraged to start sampling before their tour in the beer hall, which hosts an excellent Friday night fish fry and can be rented out for weddings and other galas.
"Now this is something you can't do at most brewery tours,'' Klisch said, holding up a pint glass and toasting his audience at a tour we took last month.This was duly noted in an ESPN.com ranking of "Baseball's Top-10 Bars and Grills,'' which placed Lakefront fifth, behind top-rated Mickey Mantle's in New York and just ahead of No. 6 Ozzie Smith's in St. Louis. Now that's some All-Star competition.It's not just that a pre-game brewery stop was a natural in a city whose team is named the Brewers. When Milwaukee County Stadium was torn down, Klisch bought the Chalet and Beer Slide that Bernie Brewer used to celebrate Brewer home runs. And then he placed Bernie's Chalet midway through his brewery, overlooking Lakefront's brewing and fermenting kettles and just around the corner from the bottling line.
If you're looking for fancy, huge and spotless, Lakefront is not the place for you. This brewery looks more like a bigger version of the mad-scientist lab where I brew beer in my basement.But if you're looking for a fun tour that explains how beer is made, Klisch is your guy.
Noting that the Busch family, of Budweiser fame, and Jim Koch, who started Sam Adams brewing, both can trace their beer roots back for generations, Klisch said he has a family heritage, too.
"At one time, my grandfather drove a street-sweeper for Schlitz,'' he said.Klisch not only will tell you about beer's four key ingredients—malted barley, hops, yeast and water—and how they interact. He'll hold up samples, and offer tastes of different kinds of barley, complete with a well-developed monologue.
For example, "Yeast acts like a college student,'' Klisch said. "It eats and splits in half, and does it again and again. And then it goes to sleep.''
And no tour would be complete without a reference to Laverne and Shirley, the old sitcom about roommates who worked in a Milwaukee brewery. Klisch had no trouble finding a volunteer to work the bottling line while the L&S theme played.
Kidding aside, Lakefront claims a long list of awards at beer contests, including two at a recent competition in Germany, which makes Klisch swell with pride.
"American craft beer is the rage of the world right now,'' he said. "Twenty years ago, people laughed at American beer.''
Beyond the beer, the gags and the education, there's another plus to Lakefront tours, which tend to attract a fun-loving crowd."Seven couples who met here have gotten married,'' Klisch said. "You never know what your $7 gets you.''At Lakefront, it's not really all about the beer. It just seems that way.
IF YOU GO
LAKEFRONT BREWERY: Located at 1872 N. Commerce St., near downtown Milwaukee. Tour admission is $7, which includes four beers, plus a coupon for another beer at several nearby bars and restaurants.  Tours generally begin at 2 and 3 p.m. most days, but extra tours often are added during peak times. Check at Lakefrontbrewery.com or call 414-372-8800. Tour reservations are not taken; plan on arriving early. Fish fry also available from 4 to 9 p.m. on Fridays.