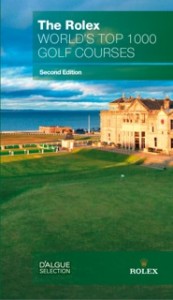 With some 32,000 golf courses in the world to choose from, picking the top 1,000 is no easy feat.  After all, one has to be as fair and inclusive of countries ranging from Austria to Venezuela, and courses from Augusta National to Zhuhai Golden Gulf.  But the second edition of The Rolex World's Top 1000 Golf Courses, by D'Algue Selection, pretty much pulls it off.
A follow-up to a 2010 release, the book is invaluable to an international traveler who likes playing the best courses wherever he or she lands.
The France-based D'Algue Selection was founded by Gaetan Mourgue d'Algue, one of France's finest golfers and a force behind the European Tour. With evaluations from a team of 200 independent course raters, the publisher's editorial committee rated top courses as outstanding, excellent and others that were only "extremely good,"  on a five point scale from 75 to 100.  Design variety, conditioning and shot values were obvious measures, but so was history and tradition.  That's why the handful of 100 point courses include 15 very familiar names, such as Royal Melbourne, the Old Course at St. Andrews and Cypress Point.
Newer courses also did well, including several near Scottsdale, the destination for the next Golf Road Warriors ultimate buddy trip.  Among the Arizona tracks rated in the top 1000 were Mirabel, Troon, We-Ko-Pa Saguro, Estancia and  Boulders North, all courses that I've personally played.
The first edition of the World's Top 1000 Golf Courses generated considerable comment, some of which factored into the second edition.  Indeed, there were 107 new entries in the new version, as renovations upgraded some first-timers and a few new courses opened in Oregon's Bandon Dunes, in China and even Tasmania.
As before, the United States has the greatest number of courses, with 333.  And while the UK, Ireland and The Continent earned its fair share of rankings, so did a few courses on the fringes of Europe, including in Bulgaria, Greece and Cyprus.
Serious golfers who love course architecture will quibble about omissions.  The iconic Desert Forest in the Arizona town of Carefree is clearly one of the top 150 in the US and thus should have been included, along with the Tom Fazio Martis Camp design in California's High Sierra.  But again, to be useful to traveling golfers, the diversity and inclusion is the book's greatest strength.
On sale at Amazon.com and in major golf stores, the book retails for 35 euros, 25 pounds sterling and $35 U.S.  The publisher can be reached at:
D'ALGUE SELECTION
16, chemin du golf
78860 Saint-Nom-la-Bretèche
France
Office: +33 (0)5 24 61 67 12
Cell: +33 (0)6 77 26 53 10
www.rolextop1000.com
info@dalgueselection.com