First light comes early only a week after the summer solstice.  In a secluded Northern California valley, where hillsides are swathed with golden wild grasses and studded by old and gnarled coast live and blue oak trees, the deep pink and blue glow is accompanied by a growing cacophony of chirps, cheeps and squawks, from happily feeding starlings, magpies and crows. At a distance comes the low hum of mowers, preparing the fairways and greens of the CordeValle golf course for the day's play, an aural promise of a sublime round.
At this Rosewood Resort near the town of San Martin, nestled in the Santa Cruz Mountain foothills about a half hour south of San Jose and just a couple miles off Highway 101, golf is a primary allure, albeit one of many.  The entrance road into the resort runs through vineyards, several of the hillsides in the valley are planted in grapes, and a nearby winery offers free tours and tastings to the resort's guests.  There are only 45 separate lodgings here, in villas, large fairway homes and well-furnished bungalows, all with flat-screen televisions, satellite channel choices, king-sized beds with ultra quality linen, huge bathtubs with power jets, and towels large enough for sumo wrestlers.  From an upper bungalow on the valley's east side is an expansive view of the middle nine holes of the Robert Trent Jones Jr. design, which opened in 1999 and is a fixture on top 100 lists of courses open to public play.  The vista is another preview of the day to come.
Indeed, each room also contains a pair of binoculars, all the better to get a close look at the forecaddies in their white jump-suits, heading uphill on the 13th fairway on the valley's opposite side, and then back down the 14th, a sharp dog-leg left, where a jutting piece of rough with a lone large tree guards what looks like a shortcut.  Watch as four players take totally different routes down the relatively wide fairway, and converge on the green where caddies give reads on the undulating surfaces.  Given such tantalizing advanced exposure, golf might almost distract one from the overall delight that is CordeValle.
Almost but not completely, since this is one of the finer resorts in Northern California, comparable to and perhaps even superior in some dimensions to The Lodge at Pebble Beach, or Half Moon Bay's Ritz Carlton.  Unlike those oceanfront and often foggy and chill locales, CordeValle – – the name is essentially Spanish for "heart of the valley" – – is set in a temperate region, and spread out over some 1,700 acres.  Its amenities include a pool, fitness center and spa, the latter of which offers massage and skin treatments.  There are two hiking trails, one around the valley floor and another around its top, an up and down test of endurance.  Four new tennis courts, a well-appointed clubhouse and an affable head pro have also turned CordeValle into a tennis getaway.  Just off the property is the Clos LaChance winery, to which guests are shuttled in golf cars – – and to rooms and different venues by fast-moving and helpful staff members who are seldom more than a couple minutes away.
Moreover, at Il Vigneto, CordeValle's fine dining room, the food is . . . well, we'll get to that "Eat" thing later:  First, more on the "Play."
Rocco Me on the Water
Trent Jones Jr. still considers CordeValle one of his finest designs, which is quite a testament from a fellow who in a 40-year career is behind more than 270 courses in more than 40
countries, including Chambers Bay in Washington State, which opened only in 2007 and has already been chosen to host the 2015 U.S. Open.   He has a legacy of mentoring other esteemed architects including Kyle Phillips, Don Knott and Gary Linn.  (Linn was apparently behind the dramatic bunkering that characterizes CordeValle's layout.)  Meandering over 260 acres, the routing around the valley uses natural elevation changes to give many of the best holes their look and feel.
While the tips play at 7,169 yards, the more forward tees make the course interesting, but certainly not a bruiser.  A few ravines, creeks and rough can eat an errant shot, but the landing areas and most greens are generous in size.   Play wisely and one can score reasonably well, even without the advice of a caddy.  As is his custom, Trent Jones lets the course advise a player on risks and rewards and in a straight forward manner suggests the safest place to aim a shot.
That's not to say the holes are cupcakes.  Take the par 3 Number 7, which has a quartet of bunkers defending its front, and which together
are expansive enough to contain a Pismo Beach worth of sand.  Following is an enchanting number 8, a short par 4 that for long hitters is drivable, but which has water and other obstacles to penalize those who are too daring.  This hole, played as Number 17 in last October's Frys.com Open, had a pivotal role in a win by the beloved Rocco Mediate.
Although he hadn't won a Tour event in nearly a decade – – but did come close in a playoff against a certain guy with a bad knee at the 2008 U.S. Open at Torrey Pines – – Mediate had the lead for much of the tournament, thanks largely to three hole-outs on approach shots.  Not playing well in the final round, he was on the verge of losing the edge to a pair of surging players, Bo Van Pelt and Alex Prugh.   Ignoring the bunkers to the left and front of the green, and the pond at the right front, Van Pelt laced a nearly 300-yard drive that landed and held on the green.  Prugh followed and barely missed a double-eagle ace, leaving a one-foot putt for an eagle that could possibly tie him for the lead if Mediate only made par.  Not risking the pond, Rocco laid up to 116 yards. And he then promptly holed out with a wedge for the fourth time in the tournament, for his own eagle that led to the one-stroke win.
Previously held at Grayhawk Golf Club in Arizona, this was the first Frys.com for CordeValle.  The 2011 event will be held from October 3 through 9; tickets went on sale in March and are still available.  What's more, from the 16th to the 18th of this coming September, CordeValle will host the 2011 PGA Cup, which is something of a Ryder Cup for club professionals, involving teams from the U.S., Great Britain and Ireland.  The course has previously been the site of several USGA qualifying events and will host the 2013 USGA Senior Women's Amateur, clearly earning its stripes as a first-rate resortand tournament course, traits that are not always all that compatible.
Notes from my round include an observation about a green "bifurcated by a hump running at an odd angle;" another notes a fairway bunker that "from the tee looks wider than Waikiki."  There are a couple of crossing hazards that imply a risk and reward shot – – biting off as much distance as one dares – – but which in practice can simply be avoided by staying left, without really sacrificing distance.  The course has its hazards, and things that Trent Jones Jr. makes initially appear to be hazards, but are not.  All in all, CordeValle compels players to think their way around, which is perhaps the greatest complement that can be given to any course.
Lobster, Bone Marrow and Beignets
The food at CordeValle is equal to the golf.  Just ask Fluffy.  The pet-friendly resort has a page in its room service menu for canines, including such treats as Chicken Breast a la Fido, Grain Free Kibble and Hot Diggity Dog, which are hot dog bits with steamed carrots and rice.  The list also includes deserts such as the so-called dental treat known as Greenies, which to dogs are like crack cocaine; a pet walking service is available to help trot off the effects.
Meanwhile, with Executive Chef Luca Rutigliano at the kitchen's helm, Il Vigneto is CordeValles signature restaurant, serving cuisine that's been described as "Itali-fornia."  Many of the dishes are indeed hybrids, but even the more conventional orders are presented with a twist, such as Citrus Smoked Cornish Hen, with fennel orange slaw, black olives and rosemary.  Or take the popcorn soup, an appetizer of creamed corn and spices, poured over several kernels of freshly popped corn.  These are not dishes you'd find at Applebees.
For a main course, the Butter Braised Lobster, with sweet corn custard, house made chorizio, and sea urchin & lobster emulsion – – seen in the nearby photo – – is a collision of unusual flavors that meld beautifully.  The urchin portion of the emulsion can jump on the tongue with a fishy taste, the only part of the dish my wife didn't like; I had it the night before, love it and thus took advantage of the additional bites from her plate.  Yet another main course we had was the Arctic Char, a moist white fish served with hand cut pappardelle, zucchini flowers and purple cherry tomatoes.  I also had a New York Steak, which was served with a large bone containing marrow, calorie rich and delicious nutrition that helped our Neolithic ancestors to grow larger brains.
Oh yes, then there's the desert beignets: I've had many of the French donuts at Café du Monde in New Orleans, and also in Paris.  I would have never believed the Crescent City's "Original French Market Coffee Stand" could be topped.  But Il Vigneto serves warm miniature beignets, with chocolate, raspberry and caramel dipping sauces that only added to fresh and bold yeasty flavor.
Benjy's Place
Last year CordeValle amped up its Tennis Center, replacing a pair of older courts with four new ones, each featuring the Plexicushion System, which includes a subsurface that absorbs shock and reduces fatigue and wear on the feet, ankles and knees.  The orthopedically friendly courts – – seen in the photo below and to the right – – provide good traction and also have a surface coating that causes shots to play at medium speed, which is amenable to a variety of playing styles.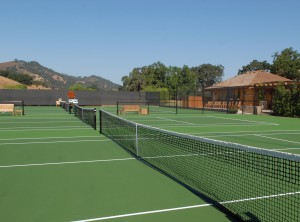 The Center's pavilion includes a bar, food service, lockers and the outgoing Benjy Robins, the resort's new Director of Tennis.  Robins spent many years with the Association of Tennis Professionals, for which he was on the road for 40 weeks at year as one of the ATP's tour managers, serving as player liaison at tournaments worldwide.  He's been a pro at several resorts, including the La Jolla Beach and Tennis Club, and was an assistant tennis coach at San Jose State.  Bringing that expertise to CordeValle, he's now giving individual and group lessons with video analysis, and is also creating special clinics for groups large and small.
Moreover, like everyone we met at CordeValle, Robins takes a personal interest in the guests.  Since my wife had recently injured a knee, we rallied for only a half-hour.  When we were done, Robins not only filled up a plastic bag with ice, but also demonstrated several exercises that would strengthen her knee.  And, a couple hours later, a resort staff member showed up at our room with printed information about the tennis program, and one of the stoutest lengths of Thera-Band we'd ever seen, a stretch strap used to improve flexibility and rank of motion for foot and knee rehabilitation.
CordeValle is obviously not a low rent district.  Depending on the season and whether you're in a guest room, bungalow or Villa, room rates start at $275 to $575 per day and go up.  Mid-week golf in December and January is $150 per round.  During weekends in peak months the fees can reach $295, which is steep but not unreasonable for a top-100 ranked course.  Given the quality of the food, the easy-going and yet efficient service, the well-designed and furnished rooms and the setting, CordeValle is clearly a top-100 resort.
It is perfect place for corporate gatherings – – especially in the multi-roomed fairway homes – – honeymoons, romantic vacations and perhaps a way to celebrate those significant birthdays that end in zero.   Mind you, there's not many attractions or activities that are within easy driving distance.  One could say that guests who go to CordeValle stay in CordeValle, loving the leisure in the heart of this gracious Northern California valley.