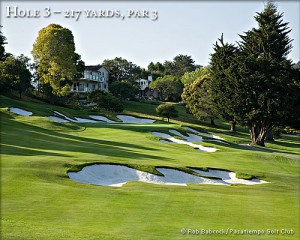 The herd of bearded goats that cleared vegetation from the steep-sided canyons and ravines in California's Santa Cruz Mountain foothills has been gone for nearly six months.  And yet seldom does a day pass without someone asking the pro shop at the Pasatiempo Golf Club where the now-famous critters – – celebrated by The A Position's Bob Fagan, among other journalists – – could be seen.  There's clearly an ongoing fascination with the 170 industrious foragers, for reasons that are on one hand intrinsic and the other directly related to the sport of golf.
For one thing, the four-legged creatures were a cheaper, safer and more environmentally friendly way of removing overgrowth around the course, especially compared to sending humans with gasoline-powered chainsaws and potent herbicides into places with treacherous footing more suited to, well, goats; an entertaining example of an old practice that's superior to one that's new.  For another, while animal-interest stories are always a media favorite, the clearing also had a distinct historic purpose.
It was yet another step in restoring the look and feel of Pasatiempo to the way its fabled architect, Dr. Alister MacKenzie, viewed his creation when it opened in 1929.
Overlooking the city of Santa Cruz and Monterey Bay, Pasatiempo is consistently rated among the top-100 courses in the United States that are open to public play, albeit limited here because of the club's private memberships.  Although it has not earned as much praise as MacKenzie's work at Augusta National, Cypress Point and Royal Melbourne, Pasatiempo occasionally lands on 100 greatest lists, period.  And it doesn't take long for an observant golfer to understand why.
Sublime routing that follows natural terrain takes a player down hills, across ravines, through dips and twice across a deep and gnarly canyon.  The bunkers are large, abundant and dramatic, framing fairways, informing shot options and guarding greens like a White House Secret Service detail.   And those greens: Each has a distinctive free-form shape and large contours, artworks in turf that are simply not found on a typical golf course.
Taken together, these traits are quintessential MacKenzie.
Passing of Time
There is a bit of Michelangelo and Mozart in the likes of MacKenzie, Donald Ross and A.W. Tillinghast, who during the 1920s and 1930s designed courses that still considered among the best ever built.   Modern architects fully understand the characteristics employed by these masters, including real hazards and those that give a false impression of danger, challenging the confidence of even the most skilled player.  And yet, despite the many thousands of courses that have been built over the past 80 years, Pasatiempo, Pinehurst No. 2 and San Francisco Golf Club endure as standouts, as do others designed by those masters of golf course design.
MacKenzie and the other leading architects of that era may have had a few advantages unavailable to most designers today.  Without heavy equipment to move large volumes of earth, they got first dibs on sites most naturally suited to the game's aesthetics and playing strategies.  It's been said that with enough money, anyone could bulldoze an ordinary site into an excellent course.  And yet, it still wouldn't fit with the surrounding natural landscape.  And money can at times be an issue even for the likes of Donald Trump.
However, just as Michelangelo had some artistic freedom thanks to generous patrons, these design wizards also had a financial edge.  Note that Augusta National, Cypress Point and San Francisco are exclusive private clubs, funded by a wealthy membership. The massive, eye-catching bunkers that define these courses are expensive to build and even more so to maintain, as are large greens.   But a projected maintenance budget was probably not an obstacle that MacKenzie faced at Pasatiempo, Cypress Point and Augusta National, nor from meddling owners more concerned with developing home-sites than a golf course.
Indeed, Pasatiempo was the dream of a golfer,  Marion Hollins, a leading woman amateur player of the 1920s.  (She's the one who gave it the Spanish name for "passing of time.")  Born into wealth and raised on a luxurious nearby estate, Hollins was considered the best all-around woman athlete of the time, She was the 1921 US Women's Amateur Champion, and in 1932 captained America's first Curtis Cup team.  An expert rider, Hollins also owned a string of polo ponies and steeplechase horses.
She was also fairly savvy about business.  While developing Pebble Beach, Samuel Morse hired Hollins as his athletic director.   It was there she met MacKenzie, who was then designing Cypress Point. Meanwhile, Hollins also made a timely investment in the San Joaquin Valley's oilfields, which enabled her to fund Pasatiempo, which was a golf club and much more.
As Fagan wrote in a piece about the club and its history: "She built her own polo field and steeplechase course at Pasatiempo and it was said, was to polo what Babe Ruth was to baseball.  She was also a pioneer in women's tennis and even had clay imported from England and France for her courts."   And she was a promoter.  When the golf course opening in 1929, more than 2000 spectators gathered for exhibition round featuring Hollins, Bobby Jones and two other well-known amateurs.  In the face of the Great Depression, she continued to pour cash into the maintaining the polo facility and tennis courts, as the resort drew the wealthy and celebrities from around the nation.
There were also fairway homes constructed around the course, but they are not a distraction to golfers.  MacKenzie and his wife built a modest house off the sixth fairway, where he remained until his death in 1934.  (The home is marked by a plaque in the cart-path.)   Ironically, Pasatiempo was one of the few designs that MacKenzie saw come to fruition, and that he personally played.   One of his assistants believed that the course "has more MacKenzie in it" than any other of his designs.
By 1938, though, Hollins ran out of business acumen, money and was forced to put Pasatiempo up for sale.   She died of cancer four years later, at the age of 52, broke and by herself in a nursing home on the Monterey Peninsula.  Back at Pasatiempo, a succession of greens committees made inevitable changes to greens, bunkers and tees.  As such committees often do, they planted a lot of trees, which were not a part of the original design.   A claustrophobic encroachment of redwoods began to choke the once open landscape.
Bringing Down the Trees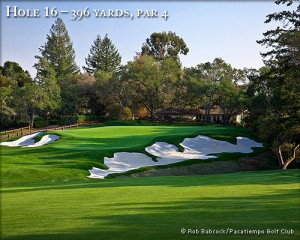 On the early 1990s, Pasatiempo club historian Robert Beck discovered a number of old and decaying photographs of the course, many by famed shooter Julian Graham. They depicted a course much different from the one members were then playing.  So, in 1996, the club had the wisdom to hire a young Tom Doak and his Renaissance Golf, to restore the course to a more original state.   Long an admirer and student of MacKenzie, Doak did not take the task lightly, as this excerpt from his master restoration plan makes clear:
"Before we dare make any suggestion on the design of Pasatiempo we must first recognize that it is a special place with a unique history. Pasatiempo is ranked among the 100 Greatest Courses in America, but its significance outweighs even that lofty status. Whereas MacKenzie never saw the finished versions of Augusta National, Royal Melbourne, or Crystal Downs, he lived the last four years of his life at Pasatiempo.   With a course of such historic significance and recognized quality of design, our mission in formulating a master plan is simple: to preserve the MacKenzie legacy as well as possible, considering the modern realities of golf. Our guiding principles have been, first, to add nothing foreign to the original design, and, second, to enhance the 'pleasurable excitement' that the architect sought to provide."
The restoration took nearly a decade, so that the course could remain in play throughout the process.  Many greens were brought back to their original size and shape, with the same for bunkers, some of which had been removed.   Nearly 1,000 trees were cleared away.  And while the speeds of the modern greens are probably too fast for the 1930s undulations, the surfaces putt with George Washington truth.
Today, Pasatiempo Superintendent Paul Chojnacky is continuing the restoration effort, again by studying historic images.   In the old photos, the back nine in particular was much more rugged than what now appears.  Vegetation filled canyons and covered hillsides, and the club seldom got very far in removing it.
While crawling into the canyons to clear out pampas grass and invasive species, the crews couldn't operate freely in the formidable terrain.   Whatever material they could clear out would have to be hauled up out of the canyon and put into big brush piles, and another company would then have to be hired to cut it into chips.  Said Chojnacky: "No matter how hard the crews worked, everything would just grow back each spring, so it almost looked like we hadn't done any work there at all.  It was a rather frustrating schedule."  Moreover, it cost some $10,000 to clear an acre.
Then came Brush Goats 4 Hire, a husband-and-wife operation out of Buellton, California.  The goats eat between 5 and 10 percent of their body weight each day, and take out pretty much everything, and for only $1,250 per acre, without the environmental issue of herbicides and chip disposal.  And now, the bottom of the canyons and the individual peaks of hills can now be seen, just as in the historical photos.
Distance, Deception and Delight
The club clearly takes great pride in its history, with old photos lining the walls and display cases full of memorabilia in tribute to Hollins and MacKenzie.  There also a trophy case outside the golf shop dedicated to Pasatiempo's "touring professional," the LPGA Hall of Famer Juli Inkster, who grew up in a house along the 14th fairway and as a youth worked in the club's snack shack, driving range and cart barn.  The past, here, is very much alive.
It's been several years since I've played Pasatiempo for the first and only time, but from the first tee onward each and every hole was remarkably familiar, a testament to the distinctive qualities of the design.   With a par of 70, it's still not a long course for the big hitters, at 6521-yards from the tips.  Still, even from the middle tees several of the par 4's play in excess of 440 yards, making them a three-shot hole for the average player.
The third hole – – a par three that's 235 yards from the tips and 195-yards from the white tees – – is typical of MacKenzie's use of the natural landscape.  Below the tee is a wide ravine, with the green slightly elevated on the opposite side.  Bunkers defend bailout areas left and right.  And the green is a two-tier surface and a steep cant toward its front.  It's been called one of the more difficult par threes in golf that doesn't involve water.
In his lost manuscript that became the book The Spirit of St. Andrews, Mackenzie proclaimed Pasatiempo's back nine "the best I have ever built or seen."  The 440-yard tenth, which crosses one of the canyons that's been cleared of brush and vines by the goats, demands a clean 200-plus-yard drive to reach safe ground, and then dives left down a hill, with contours fronting the green that feed balls hit to the left into cluster of seven bunkers.   The eleventh, while only 392 from the tips and 379 from the whites, is a downright bugger, demanding a straight drive uphill and then a second uphill shot to the green, carrying a ravine that splits the fairway.  Again, for an average player, this is a par four that often requires three shots to the green – – and that's no shame.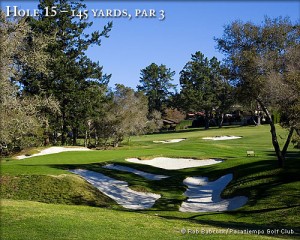 In turn, I little problem reaching the par three 15th hole, which from the whites played at only 135 yards.   But what I saw made me do a lot of thinking.  Not much more than 15 yards wide at most points, the ribbon of green slopes upward, left to right, with nothing but bunkers in front and a steep drop off into rough behind.  In practice it's an easier shot than it looks and perfect for a soft fade, but deception is another aspect of MacKenzie, who during World War I developed expertise in military camouflage.
One of MacKenzie's personal favorites on the course – – and the number one handicap hole – – is the 16th, a 387-yard par four with a slight dogleg to the left, which demands a blind shot from the tee.  Go straight and you're safe; try to bite off distance while tempting trouble to the left and you get either the distance or doom.  The very steep three-tied green is Pasatiempo's most memorable, with an outstretched tongue in the front that looks not unlike the Rolling Stones logo, created years before the lads were even born.  I got onto the bottom level in two and promptly three-jacked it by lagging too far past the pin on the middle.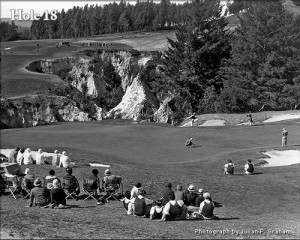 The 18th is another par three, downhill over the canyon and only 143 yards from the white tees.  Many modern courses end with the toughest hole, to make or break a tournament's last round.  Here, MacKenzie gives players an ample opportunity for a birdie, or an easy par.  And a good score on the concluding hole is a most excellent way to erase thoughts of any bad shot that's come before, leaving players with the sense that the four hours just gone by was passing time very well spent.