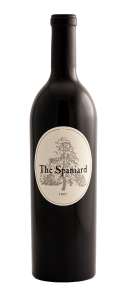 In California's central Sierra foothills there are nearly two-dozen Calaveras County wineries and tasting rooms.  Some are austere, such as the Hatcher Winery's cellar-like space below the main floor of a building on Murphys' Main Street, a spare room that belies the quality of its myriad vintages.  There is also the ostentatious, exemplified by the huge Ironstone complex, with its artificial lake, re-created gold-ore mill, a huge performing arts amphitheater that hosts headliner concerts, and a museum featuring a 44-pound gold nugget.  And then there is the deliciously warped Twisted Oak, with truly unusual wines shaped by the maniacal mind of owner Jeff Stai.
While most wineries here and in nearby Amador and El Dorado counties make Zinfandel, Cabernet Sauvignon and other mainstream varietals, Stai and his staff produce a number blends and wines from little known grapes more common to southern Europe, such as the Tempranillo, the Carnignane and Graciano.   Some of his wines go by unusual names, including Ol' Chumbucket and River of Skulls.  And then there is a most remarkable Rioja-style blend called The Spaniard.
Named after a character in the 1987 film Princess Bride, this is one big blend, so much so that Twisted Oak boasts that six fingers are needed to hoist a single glass of the stuff.  It is a very dry wine, soft and velvety and yet with enough acid to make its flavors stand out.  The latest vintage, 2007, is a blend of Tempranillo, Garnacha and Graciano grapes, which together produce flavors of cherries, blueberries and notes of green olives, sandalwood and a bit of citrus.  It bagged a double gold medal at the San Francisco International Wine Competition, and earned numerous other awards.  But why listen to wine experts when golf and travel writers can testify?
At a winemakers dinner on the outdoor patio of the Greenhorn Creek Resort's new Caddy Shack, hard by its Robert Trent Jones II golf course, several vintners from the Murphys and Angels Camp area poured their wares during a meal featuring barbecued steak. We sat at a table of 6 and consumed several excellent reds. But the hands reaching for refills decidedly favored The Spaniard, forcing Stai – – who also goes by the name El Jefe – – to open three additional bottles during the meal.  That's voting with a wine glass.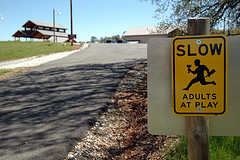 Spend any time on the Twisted Oak website and you'll get an idea of the  playful nature of Stai and his ideas about wine.  Consider The Spaniard's tasting notes: We have quite a hodgepodge of tasting notes for The Spaniard, so rather than wrap a narrative of questionable cleverness around them, we're just going to throw them right at you: "Cherry Sweet Tart" "Leather berry berry" "Oakberry pepper" "Great gams" (gams?) "Fruitalicious" "Way better than beer" "A great [Italian] red" (that was one confused taster, and we won't repeat the inappropriate ethnic characterization that rhymes with Winnebago.) Our favorite: "It's turtles all the way down!" OK, so that last one is maybe too hip for the room (you can read about it on Wikipedia) – we're pretty sure he was referring to the long finish!
For a retail price of $49 a bottle – – or $39.20 if you join the Twisted Few wine club – – it ought to include a few turtles.  The thing is, only a few hundred cases of The Spaniard were made.  It's the stuff of hands-on attention that is behind most exceptional wine.  Add that to a blend of grapes not normally used in California wines, and what you get is a vintage that's simply and boldly a knockout.