Widely considered the greatest player in National Football League history, former San Francisco 49er wide receiver and Hall of Famer Jerry Rice is again serving as host of the Nationwide Tour's Fresh Express Classic, and competing as a player in the tournament, which is held during this week. (April 14-17.)  His participation there last year–and at another Nationwide event in South Carolina–set off a nasty kerfuffle in the golf world.  While Rice is a decent golfer, critics argued that he dishonored the game by taking a tournament spot from a true professional.
At the TPC Stonebrae course in the hills above the East Bay city of Hayward, Rice shot 83-76 and missed the Fresh Express cut.  In South Carolina he shot 92-82 and then was disqualified because his caddie used a range-finder, which Rice admitted was downright embarrassing.  But what really chafed some underwear is that Rice had openly expressed the notion that he might make those cuts, and maybe earn a card on the Champions Tour when he turns 50 in a couple of years.
Hubris yes, but Rice has exceeded expectations all his life, usually in a spectacular fashion.  Raised in Crawford, Mississippi, this bricklayer's son attended tiny Mississippi Valley State University.  When he came to 49ers in the first round of the 1985 NFL draft, many a local sportswriter pondered whether Bill Walsh might not be such a genius, especially as the wide-open receiver dropped an unusual number of Joe Montana's passes during that first season.  Moreover, his media interviews were dreadful, and it was obvious that Rice was painfully shy.
No one could say that about him today.  Told that Rice was once reserved and halting in public, Nationwide Tour player James Hahn–who grew up in the Bay Area, plays practice rounds with Rice at Stonebrae and appeared with him at the Fresh Express media day –was taken aback.  "Jerry, 'Mister Dancing With the Stars Jerry,' shy?" said Hahn.  "That's hard to believe."
The 29-year-old Hahn was a toddler back then.  Rice's transformation to an outgoing extrovert–he finished second during the second season of Dancing With the Stars, surprising judges and viewers alike—is remarkable.   And to this credit, Rice came back to Stonebrae with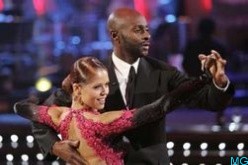 a load of humility.  "Those guys," he said of the Nationwide players, "are on a totally different level that I am."  And they play a very different game than the one to which Rice has been accustomed.
A fast player who likes to hear noise around him during competition, Rice came to fully appreciate the way pros approach tournament rounds with quiet deliberation.  "I used to think, come on guys, hit it and let's go.  But now I see the strategy and thinking, and the meaning that goes along with each shot.  I play practice rounds with James and we joke around and talk, but in a tournament he won't even look at me."
Ironically, Rice's appearance last year generated not only criticism, but considerable media for a Tour that just doesn't get a great deal of attention.  More than 50 media credential requests poured into Stonebrae, and it included national television coverage from outlets that don't often touch golf, unless it's about Tiger Wood's personal life.
"Just having him here really did a lot for the success of the tournament and the support for its charities," added Hahn, who finished 29th on the Nationwide's money list last year, just a few thousand dollars short of winning a card on the PGA Tour.  "And unlike some people complained, he's not really taking a spot from some deserving professional.  A sponsor's exemption is for a player who doesn't have PGA credentials."
In this year's first round, Rice scrambled well for about eight holes then started down the bogey trail, ending up shooting an 11-over par 81 – – not bad for playing on a pro set-up, but a score that left him tied for last among the 154 players who finished the round. He followed that up with an 82, again leaving him in last place, ahead of four players who withdrew.  What's more, Rice had the grace to publish his scorecard on his blog page, writing:  "I could not be happier with the first two days of the tournament, even though I really I wanted to have a better score than last year. It was great to have so many people come out and support the tournament, it's going to be fun being around all weekend. This year I did so many things better than last year, even though my score does not show it. I was more patient, I worked my way around the course and I made some putts when I was not striking the ball that well. Last year I could not do that. And for nine holes today, I was only 2 over. I was pretty happy with that."
As the San Francisco Chronicle's Ron Kroicheck put it in a column right after the most recent media day: "Rice deserves credit for embracing his role with the tour's annual Bay Area stop. He's an ambassador, giving the event a famous face – several times during a 15-minute interview he mentioned his desire to make sure fans enjoy their experience at Stonebrae."  And if he shoots his old number from the NFL, 80, he'll be making progress toward more cheering galleries.