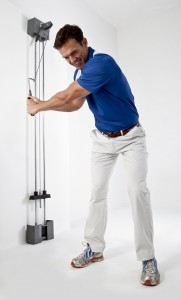 In a conversation about how professional golfers practice, J.C. Snead once told me that it was fundamental for a player to get "golf strong," before all else could come together.  "It's different from other kinds of strong, in that being golf strong makes if possible for you to hit balls on the range for hours, practicing different shots," explain the Virginia-born Snead, who had 15 wins on the PGA Tour, Champions Tour and in other events.  "It's also the strength that gets you through the last round of a tournament."
While golf is about the last sport to get a clue, it's now  well accepted that fitness generally improves performance,  the waistlines of Darren Clarke and Phil Mickelson notwithstanding.  Yoga for flexibility, Pilates for core-building and cardiovascular exercise for endurance are standard training regimens for professionals and top-ranked amateurs.  And now comes a weight machine, called The Extra 20 Yards, meant to build the strength that increases clubhead speed and adds distance to drives and iron shots, reputedly with just a few minutes of at-home workouts per week.
Developed in Edinburgh, Scotland, and on the European market for about a year, The Extra 20 Yards was recently introduced in the U.S., where it sells for $365, plus $30 for shipping.  That's about the cost of the new driver, which is what most golfers buy in an often elusive  search of incremental distance.  And yet, the only certain ways to get better yardage off the tee is through instruction and better technique, custom fitted clubs and, perhaps most important, by  developing strength and flexibility.
"I lack the motivation to go to a gym for an hour or 90 minutes three times a week so I can hit a golf ball farther," said Extra 20 Yards Inventor, Graeme Alexander. "So I came up with an exercise machine that is biomechanically specific to the golf swing."
The weighted swivel pulley device has a handle that's like a golf grip, and the motion used mimics the golf swing, on a plane that's correct for both left and right-handed golfers. A weighted stack of plates, each 4.4 pounds, is designed to work the muscles of the swing without sacrificing flexibility.   It works on the body's core and, as Alexander notes, is golf-specific, unlike the weight machines in gyms.  In addition, says the inventor, the system also builds muscle memory in the hands and arm, which helps hard-wire technique.
(The machine is easily installed against a wall, and must presumably be anchored into a stud.  More information, and a video, can be found at (www.extra-yards.com).
Washboard Abs and American Flab
Competitive athletes in any sport, from junior high upward, spend hours dailyon their chosen game or event.  With each higher level, the demands of training and practice soar.  Grownup amateur golfers with full-time jobs and families seldom have many discretionary hours for both the repetitive aspects of practicing a motor-skills sport and physical conditioning.   And as Snead also suggests, the ability to endure several hours of work on a practice range takes not only mental strength, but an awfully stout constitution.
The Extra 20 Yards – – which has attracted unsolicited endorsements from European professionals and golf instructors – – is an excellent option for putting in minimum time and getting good results from the physical side of golf training.  Well, that so long as it's not left gathering dust like all of those tummy tightening machines found at garage sales across the Midwest and Southern U.S., where there is considerably more flab than ripped abs.
In any event, of the four most important aspects of playing better golf – – which include instruction, equipment, practice and conditioning – – the physical aspects are probably as important as professional teaching.
And then, if one gets Golf Strong like  J.C. Snead, the necessary practice can follow.