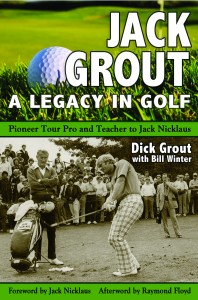 In a rare look at the life of a country club golf professional and the nascent PGA Tour in the first half of the 20th century, a new book on legendary Jack Grout peels back time, offering generations who've never heard of him a revealing portrait of a pioneering tour pro and leading instructor. Legendary? Get this: Grout was Jack Nicklaus' first and only instructor, starting in 1950 with the 10-year-old beginner in group lessons at the Scioto Country Club in Columbus, Ohio, and until the Golden Bear won the 1986 Masters, his 18th and final Major. Take that guru cred and smoke it, Butch, Hank and Sean.
Called Jack Grout – – A Legacy in Golf, the book was written by Grout's son, Dick, with help from journalist Bill Winter. Published by Blue River Press of Indianapolis, it's a decidedly homespun tale that was long in the writing and clearly a labor of love.  It details Grout's passion for golf, which started when an elder brother landed him a job as a caddie at the Oklahoma City Golf & Country Club. The verdant green fairways, the smell of fresh-cut grass and the camaraderie between the well-mannered men and women on the course immediately hooked the boy, then 8, on the culture of the game and its playing grounds.
A studious youngster, Grout early on absorbed all he could about the golf swing, teeing up balls for the students of Oklahoma City's head pro, Sandy Baxter, watching and listening as the Scottish instructor taught.  Something of a Zelig of golf – – in that he fit in easily and came to know just about every notable in the game – – Grout was only 12 when he caddied for Walter Hagen.  During his early years of trying to earn a living on the Tour, his traveling pals and practice partners included Byron Nelson and Ben Hogan. And it's clear that the pro circuit of the 1930s and 1940s was a much tighter fraternity of players that today's Tour, with true characters that included Sam Snead, Jimmy Demaret and Gene Sarazen – – all contemporaries and friends of Jack Grout.
Too Nice a Guy
Among the book's most interesting insights involve the dynamics of club pros, who seemed to switch more often than Silicon Valley programmers.  Prestigious clubs – – and those seeking prestige – – preferred to hire Tour pros as head professionals, even if the name player didn't give many lessons.  Grout was more suited to teaching than competing on the big stage, although he had a long and solid journeyman Tour career.  But as Byron Nelson said many years later, Grout "had a wonderfully long, fluid, smooth swing and good rhythm, but he was too nice a guy, not a tough enough competitor . . ."
Economics often forced him to compete and teach. However, while there's a great deal of hand-wringing about the game's current state and rightly so, Jack Grout reminds readers that during the Great Depression, golf club memberships dropped by half, and more courses closed than opened. What's more, club pros used to earn handsome sums of cash repairing hickory-shafted clubs; the introduction of steel shafts in the 1930s erased a major source of revenue.
Nonetheless, Jack Grout held prestigious positions at more than 15 clubs, including the Hershey Country Club in Pennsylvania, Scioto in Ohio and La Gorce Country Club in Miami Beach, Florida, the latter of which was ground zero for golf course gambling among pros, celebrities and suckers alike.  Grout later taught at Nicklaus' Muirfield Village, in Dublin, Ohio.  His calm and quiet teaching style, an ability to discern flaws and then offer basic solutions attracted legions of students.
A Pitch for the World Golf Hall of Fame
Grout's serious players included Raymond Floyd, Dow Finsterwald, Tommy Aaron, Ben Crenshaw, J.C. Snead, Lanny Wadkins, Bruce Devlin and, among others, Jack Nicklaus. At La Gorce he hung around with the likes of Bob Hope, Chuck Conners, James Garner, Will Rodgers, Mickey Mantle, Joe Namath, Patty Berg, Jack Dempsey and Spiro Agnew. The book names names, lots of names.
The middle section includes a long and deeply personal account of Jack Grout's nearly two-year long-distance courtship of young Bonnie Fox.  (Grout has passed the age of 30, and she was 19 when they met.)  The demands of teaching golf and competing during that time are included, but in this section the book is nearly as much about Dick Grout's mother as it is about his father, and the travails of a nation in the middle of the Second World War.  Dick argues that the book is about more than golf, and is the story of  "a quiet and humble family man who succeeded at every level in a profession that demands tremendous self-focus and intense competitiveness." Fair enough.
Jack Grout died in 1989, never getting quite the recognition now bestowed on leading teachers.  He wrote three books, a couple based on his relationship with Nicklaus, but  did not aggressively self-promote in the ways that are now common.  That could be the main reason Jack Grout is not in the World Golf Hall of Fame.  Dick Grout thinks his father belongs there.  He may well be right.
Jack Grout – – A Legacy in Golf, 288 pages,  $24.95, Blue River Press, Indianapolis, IN