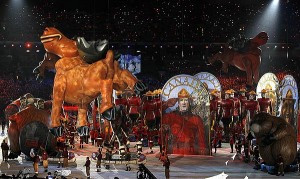 It occurred to me this morning, the first of March, that the Winter Olympics are much like a quadrennial extra Groundhog Day. Not until they are over can we feel as if spring is soon to come. And while I watched more Olympics coverage than I thought I would (and curling? Really? Come on…), I am glad it's over and the golf season in most of the U.S. is just behind. That said, the closing ceremonies featuring giant inflatable beaver, moose, and Mounties—to say nothing of William Shatner and Catherine O'Hara—show that the Canadians possess something besides the largest tally of gold medals: They have a much better sense of humor than most of the rest of the world. Eh?
Every Monday, I receive an email from the PGA of America listing the Ryder Cup points being accumulated by both American and European players. Today, after Hunter Mahan's victory in the Waste Management Phoenix Open (still one of the great names in corporate sponsorship), Mahan is in fifth place, more than 400 points ahead of Tiger Woods. (Phil Mickelson is 90 points behind Tiger, fodder for another comment at another time.) Depending on how long Tiger stays away from the game, there is the possibility that he will not qualify for the Ryder Cup team. Yes, the team did just fine without Tiger in 2008, with some pundits actually thinking his absence helped the team more than it hurt. Maybe so, and perhaps Captain Pavin, his assistants, and the other Americans vying for team spots are preparing themselves for another Tiger-less match. What do you think the chances are Tiger, no matter how long he stays away or how poorly he's playing should he return, is a Captain's pick?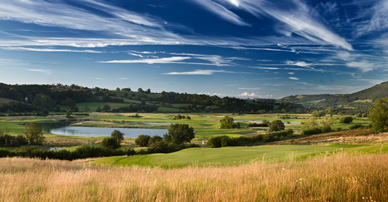 Speaking of the Ryder Cup, the website for Visit Wales features the official countdown clock to the matches kick-off at Celtic Manor, in Newport, South Wales, which is about a 90-minute drive from London's Heathrow Airport, or 45 minutes from the airports in Bristol, England, and the Welsh capital of Cardiff. As of today, we're 213 days (plus assorted hours, minutes, and seconds) from the first ball being struck. The site also has extensive information about the more than 200 golf courses in Wales—the photo is of the Twenty Ten Course, site of the Cup matches—and all sorts of other stuff. Wales strikes me as a little like Ireland 25 years ago, ready to burst into the public consciousness as a tourist, and golfing, destination. And the Ryder Cup matches will only help accelerate the world's interest. I'm hoping to get there this summer and write about my travels. More on that to come.
Photographs courtesy the Los Angeles Times and Celtic Manor.