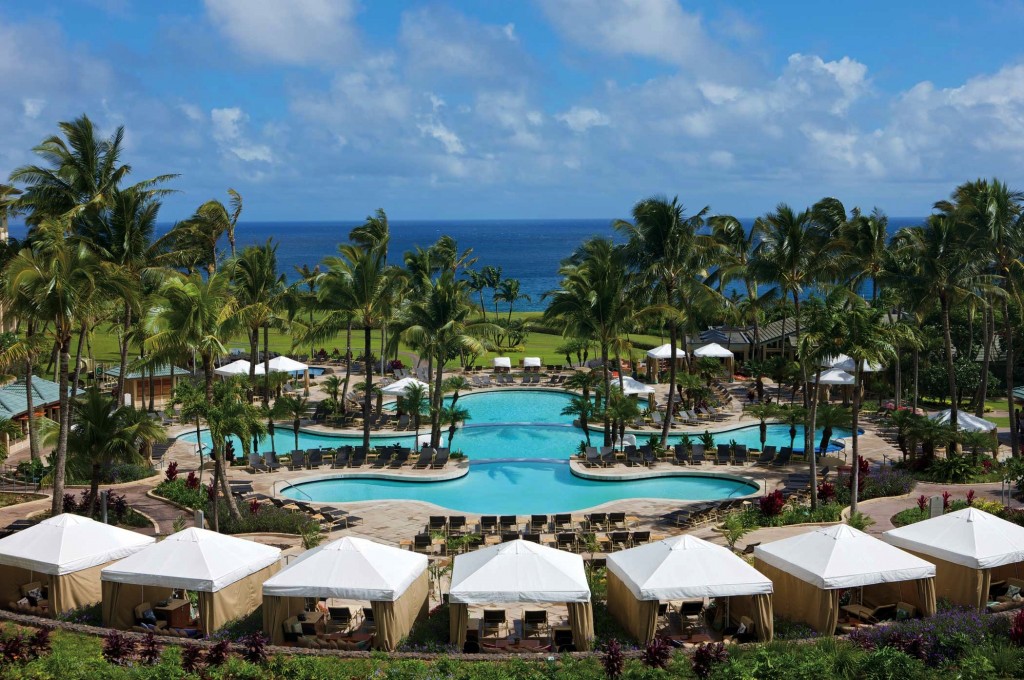 After returning from a Golf Road Warriors trip (and I think this one to Maui was my fourth or fifth), I try to take a few days, gather my thoughts, and write a wrapping-up story with observations meant to make your trip to the same area more fun. Problem is, it's damn-near impossible to make a Maui meander any more fun than it's sure to be. The whole place is already all about fun first and foremost, as visitor-friendly and resort-relaxed as anywhere the world over. And the golf? Not only are the courses very good and expertly run, but taken together they offer a much wider variety of styles and experiences than you'd think.
Not all Hawaiian golf is the same, which is the first and most important lesson. You've no doubt seen photographs of the typical par-three over crashing surf to a green hanging out over the ocean. Could anything be more Hawaiian? Maybe not, but in five rounds we didn't play a single one. In fact, none of the golf holes was that close to the water, although the Pacific was constantly in view. At least on Maui, the beach and shore are for swimmers, surfers, and sun-bathers. Golfers play a bit more inland, which meant we encountered slopes and elevation changes throughout and the only waves were in our drink cups splashing the cart.
Which leads to another surprise: Lost balls, and how few of them there were. The fairways are wide, as they must be to handle the winds. On the side of a mountain (as at King Kamehameha Golf Club and The Plantation Course at Kapalua) or somewhat flatter terrain (Royal Kaanapali and the courses at Wailea; the first hole at the Gold Course is below), breezes blow most of the time. So there's a lot of mown grass, and except for the occasional water hazard or impenetrable foliage, few places to lose a ball. (Add to that list the vegetation-filled chasms on The Plantation, but you really don't want to bring them into play if at all possible.) In five rounds I lost maybe six balls.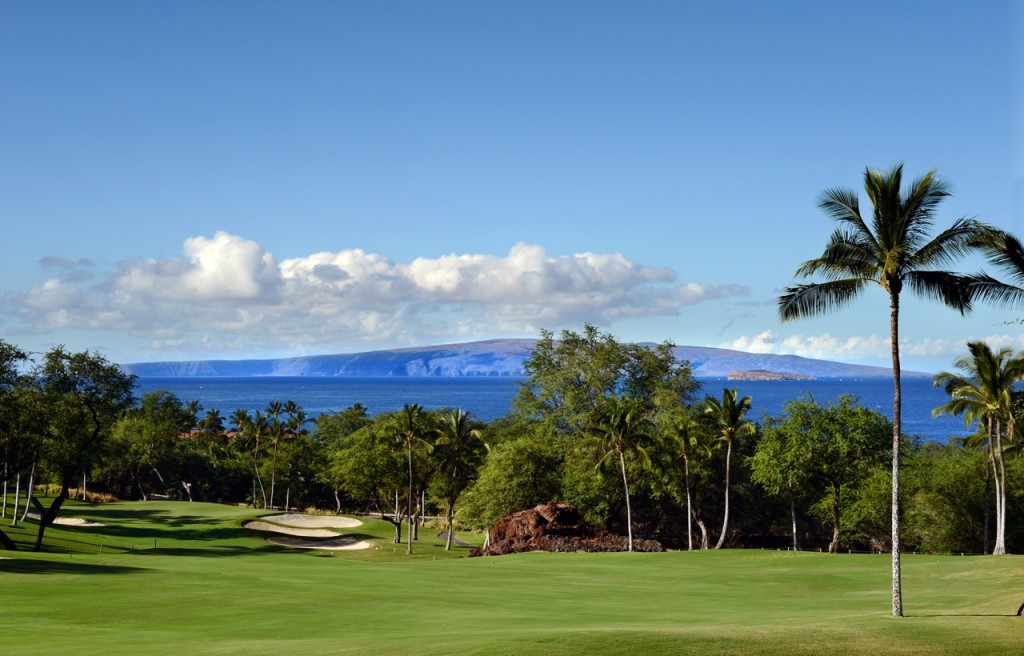 Back to the wind. Maybe it's just us, but it seems every golf conversation concerns Kona winds or trade winds (I think they blow in opposite directions but lost interest in the details early in the week). Considering that Maui weather is perfect, it sure warrants a great deal of discussion. It's wind, it's refreshing (notice how hot you get when the winds don't blow), and it's always there. Deal with it.
Early in the week I would have said the same about grain, but as the days went on my respect for the putting greens grew. I think the clowns covering golf on TV spend way too much time blaming grain for missed putts, but I live in the East where bent grass rules and conditions are usually lush. By the second round in Maui—and increasingly thereafter—grain became a big deal. The Golf Road Warriors were having nightmares about missed two-footers and power lip-outs that rolled off the greens. The only solace was when we played with the pros from the various clubs and their seemingly perfect efforts often missed and sometimes ran back into the fairway. If you've never had to deal with grain, you will. I'm not sure how someone practices for really grainy greens other than to stand at the top of the slide in a children's playground and try to stop the ball halfway down.
Some other notes, of the non-golf variety.
Eat fish. Ahi tuna, mahi-mahi, and so on. There were fresh-from-the-sea specials every night wherever we ate and they were terrific.
Drink. 1) On the golf course. Water and lots of it. The wind and sun are dehydrating. The courses all have water fountains and coolers, as well as well-stocked drink/food carts.
2) To your health. There are lots of good tropical drinks: The lovely Plantation House restaurant at Kapalua makes Honolua Lemonade, not too sweet and featuring Ocean vodka, which is distilled on Maui from sugar cane and is worth trying. And if you like beer, search out the Maui Brewing Company, with a full menu of their own, island-brewed choices like Coconut Porter, Mana Wheat, and Bikini Blonde; MBC wins lots of awards and also has a brew pub near Kapalua/Kaanapali that serves good food and is very welcoming.
Stay at a full-service resort, but get off-campus. It wasn't hard duty bunking at the Fairmont Kea Lani and the Ritz-Carlton Kapalua (that's the Ritz at the top of this page). Both are outstanding in every way, comfortable, relaxing, and imbued with island spirit. Both have beach, pools, spas, and can set you up with all kinds of activity like the very cool outrigger canoe ride we took from Kea Lani. But balance those creature comforts with some adventure, whether it's doing a zip line, whale-watching, taking a hike, or finding villages off the beaten track. Just do something so you understand that Hawaii isn't all developed, not all tourist-trod, and has a vibrant culture worth searching out. Upon landing at any Hawaiian airport you'll see racks of brochures with maps, coupons, and listings of tours, restaurants, shops, etc. These are a good place to start, but also ask the resort concierges and talk to other hotel guests for other, possibly more authentic suggestions.
Speaking of culture, if you read my post late last week, called "Kapalua Karma," you know that I talked with Clifford Nae'ole, cultural advisor to the Ritz-Carlton. He barely scratched the surface of local traditions and beliefs yet piqued my curiosity. You're going to hear about King Kamehameha ("the Great"), who united the islands and created the Kingdom of Hawaii. That wasn't 1,000 years ago but in the early 1800s, shortly after American Independence, and many locals are as proud of that history as we are of Lexington and the Liberty Bell. It's fascinating, different, and not hard to find. And if your grasp of the recent past isn't too good, note that Hawaii didn't become the 50th state until 1959 but the islands were first settled, by peoples from Polynesia, almost 2,000 years ago.
Aloha.