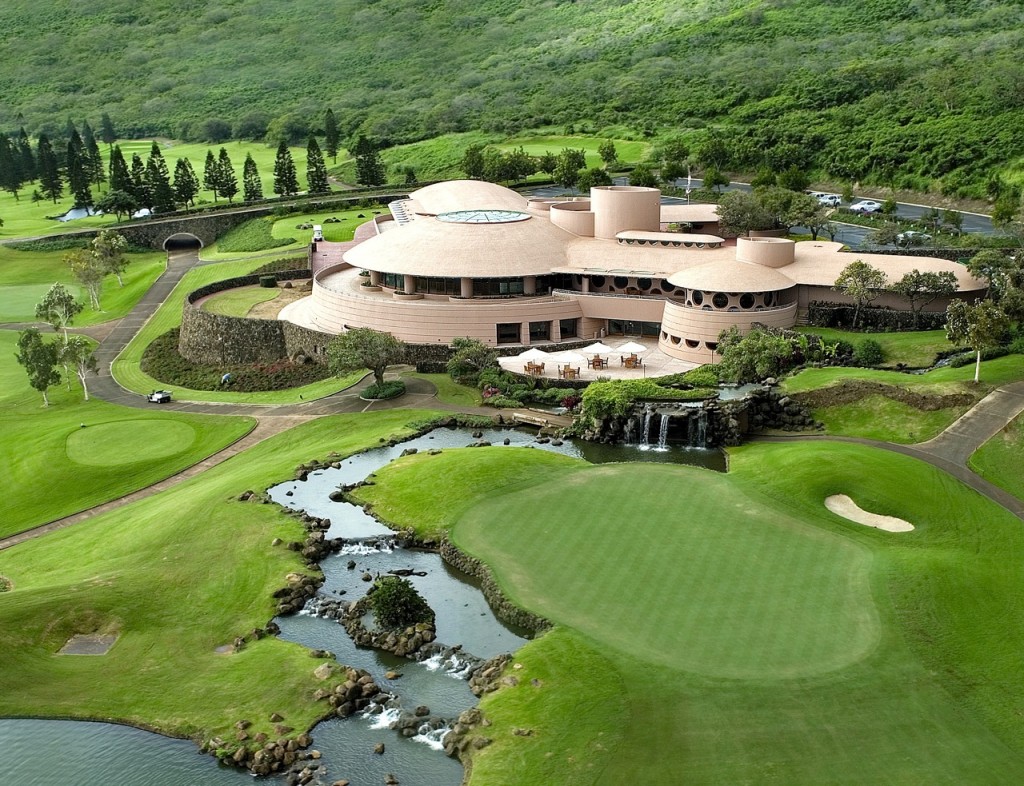 Those of you who do crossword puzzles probably have seen the clue "Hawaiian goose," sometimes preceded by the word "extinct." The answer is nene (pronounced "nay-nay"), and I'm here to say that reports of their extinction are highly exaggerated. I saw a nene—dozens, in fact—today while playing The King Kamehameha Golf Club in Maui.
Like the nene, seeing KKGC is a treat. This private club located on Maui's western coast about halfway between Wailea (where the Golf Road Warriors were yesterday) and Kapalua (where we just arrived), features a terrific course, a unique clubhouse, and a primer in Hawaiian history. No matter which appeals to you, KKGC is a required stop on the island.
The course was designed by Ted Robinson in the early 1990s and opened in 1993. Since then it has opened and closed more than a few times and in various guises with numerous owners: The layout today—with some tweaking in 2005 by the original's son, Ted Jr.— resembles nothing else you're likely to encounter in the islands. Set away from the water and stair-stepping up the side of a mountain, it is doesn't succumb to the smack-you-in-the-face extremes of resort golf (for example, there's no over-the-crashing-surf par-3 typical of most Hawaiian resort tracks). Instead, it offers up the full complement of golf challenges, from length and wind to deceptive greens, hidden trouble, and strategic options that are much better suited to a private course, the kind that members have to learn over time how to navigate with the greatest tact to write down the lowest score.
Miles from the water (although with the Pacific is view in two directions, allowing the club to boast, with welcome humor, a "bicoastal location") and scaling a mountain lush with pines rather than palms and streams that wouldn't seem out of place in North Carolina or the Pacific Northwest, KKGC should be played by those looking for the real deal.
The club opens selectively for outside play with a "guest for a day" program that allows outsiders to experience the full member treatment for $170. Guest tee times are limited and members naturally get preferred treatment. But anyone lucky enough to play the course will be treated to a very special day.
And the uniqueness simply begins with the golf. I guarantee you will never see another clubhouse like the one at KKGC. Based on a Frank Lloyd Wright design (which has its own fascinating history, including a near-miss as the home for Marilyn Monroe), the building is three floors and 74,000 square feet of Wright's trademark geometric shapes and colorful stained glass. Fans of New York's Guggenheim Museum, Pennsylvania's Falling Water, or the Taliesin West compound in Scottsdale, Arizona, will be thrilled to see Wright's concepts put to use in the cavernous locker rooms (with spas, saunas, and fitness rooms), dining areas, and meeting spaces. There's even a rather forbidding portrait of Wright looming over one of the stairwells, and his presence seems to have given the staff—led by chief keeper of the flame Rick Castillo, a PGA professional and the club's director of golf, as well as de facto curator and tour guide—the mission of preserving and promoting the architectural legacy. Nearly every corner, fixture, and design element has a back story; taken together, they present an astounding example of American genius. You don't have to like Wright's aesthetics to marvel at the finished product. (And you don't have to play golf to get a look inside: Castillo is proud and thrilled to show it off, giving an impassioned tour when asked.)
As if that weren't enough, there is a third element to the club that makes it memorable, a dedication to the preservation and presentation of Hawaiian history. From the massive mural of King Kamehameha and other Hawaiian chiefs on the wall outside the pro shop (at 3,800 square feet, the largest pro shop in the 50th state) to plaques and keiki kapa moes (baby blankets) representing the 11 Maui chiefs over the generations, the one-of-a-kind statues and trophies, tableaux, gardens, waterfalls, and other pieces of art, the club's walls are a most impressive museum of historic art. Here, too, Castillo is happy to show off the collection, all part of the club's commitment to its surroundings.
There are other clubhouses with great golf art and spectacular architecture, but I've never seen such an unusual and beloved exhibit of history not connected to the game. The mixture of Wright's sprawling, of-the-land design with a celebration of native history and culture is thrilling and inspiring. Plus there's that wonderful golf course outside with its own architectural brilliance.
Try to find all of that in one place anywhere else. Truly amazing.