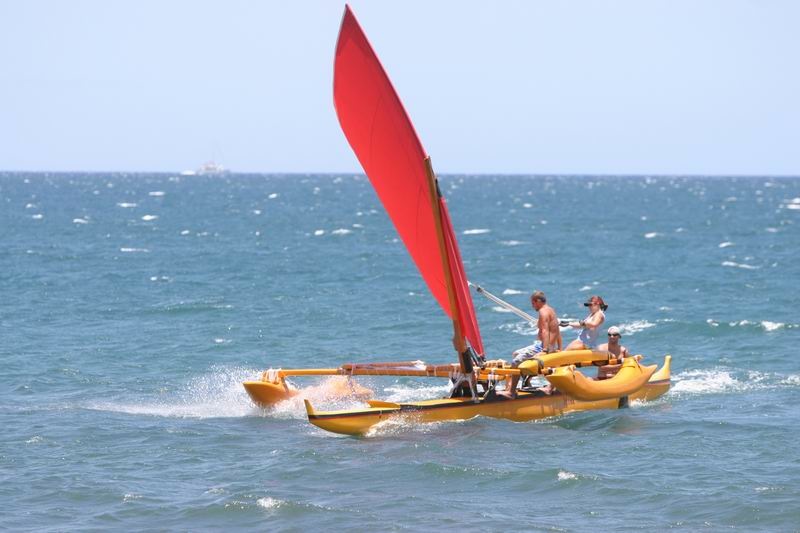 I'm hardly the first one to comment that there is no one Hawaii. Each island has its own personality, its own karma, and according to both locals and guests, they vary tremendously. Locals who suffer cases of "island fever" on their own piece of volcanic outcropping think little of hopping an interisland flight to another island to have another experience, chill, or shop.
But there's another aspect to the different Hawaiis, the difference between the one that most visitors see from their luxury resorts and the traditional islands' culture. If you come here and don't leave your resort, nice as it may be, you are missing something.
The Golf Road Warriors are presently camped out in the incredibly lovely and pampering Fairmont Kea Lani, just a few steps from the Wailea golf courses. Kea Lani is an all-suite resort with 450 rooms (including 37 ultra-luxe villas near the ocean) and everything else you could want. There's a private beach, pools, spa, shops, and some terrific restaurants including Ko (which means "sugarcane"), regularly voted one of the best dining rooms on the island and deserving all that praise and then some. Chef Tylun Pang, who is native Hawaiian, draws heavily on local produce, fish, and experience in creating a diverse menu. It is worth visiting if you're on Maui no matter where you are staying.
But in one of those old world/new world conjunctions that are very common in the islands, the GRW guys used the Fairmont's beach as a jumping-off point for a different, and more classic Hawaiian experience, sailing on an outrigger canoe. Onboard with Maui Sailing Canoe (http://www.mauisailingcanoe.com/), we sailed in the water off western Maui over water of a deep blue like I'd never seen before, and got a Hawaiian history lesson from captain Sage Spalding, who is a native, the descendant of missionaries who first came to the islands in 1847 on a whaling ship out of Boston.
As we skipped across the water, enjoying the sun and the opportunity to paddle the Hina—shown above, a modern replica of the boat used by ancient Hawaiians and sailed using their methods—Sage talked about the island's royal history, about the Maui town of Lahaina, up the coast from where we are now, which used to be the royal capital. He talked about King Kamehameha and his brides, and what it was like to have been brought up here, including going to Punahou, the same school that also graduated President Obama and Michelle Wie. He talked about the whales he saw earlier this morning—it's a little late in the season for whales, he explained, but a few adolescent stragglers are still hanging around, not sure how to get from the waters in which they were born on the road heading north—and admitted that after a lifetime sailing around the islands, he recently saw something for the first time: two giant sea turtles mating. It was great stuff, and although the water was a little too choppy for snorkeling, we learned a lot on this side of the water if unable to look closer underneath. And got a much better appreciation for the "other" Hawaii.
We also played golf today, but more about that later, in another story.