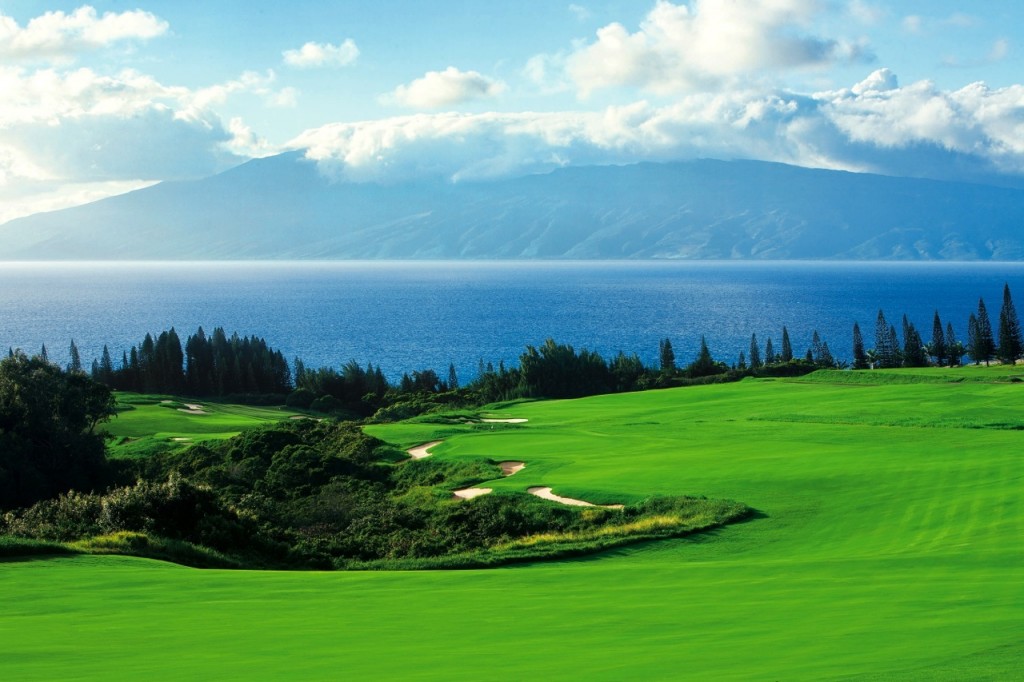 Whenever golfers discuss the merits of our sport someone inevitably mentions that it is the only one in which amateurs like us can tackle the same fields of play used by the professionals. I don't know offhand how many PGA Tour courses are accessible to us mortals, but I'd think maybe a third are resort or public-access.
Most of them are pretty good tracks, places like Doral's Blue Monster, the courses at Innisbrook Resort and Las Colinas outside Dallas. A few of them are terrific, such as the occasional major venues like Torrey Pines, Whistling Straits, and especially Bethpage Black. And then there are the annual gut-busters that give us the opportunity to see just how good the pros really are based on how badly we play them. I'm thinking of two in particular: the Stadium Course at Sawgrass in Florida, and The Plantation Course at Kapalua here on Maui, which just ground me up, spit me out, and seemed to take great pleasure in doing so.
And you know what? I loved every minute of it.
The Plantation Course was designed by Ben Crenshaw and Bill Coore, and like their other notable courses it is famous—or perhaps infamous—for its greens. Big, sloping, fast, and in a few cases bordering on crazy (tiny ledges, roller coaster mounds, unreadable breaks), these greens can be hazardous to your mental health. Which is why this is not a course where you worry too much about score but try to find another level of your imagination when figuring out where to drop a little chip shot, where in the fairway to land the ball so it doesn't roll off the far side of the putting surface, even how hard—and bending—to stroke a two-foot putt. My foursome included one of the club's teaching pros and another near-scratch player and we collectively saw a procession of power lip-outs and missed tap-ins that would make you cry. Or laugh.
And the greens are hardly the course's only defense. If you've ever watched the PGA Tour-season opening Tournament of Champions, which is played on Plantation, you know that the area around Kapalua in northwest Maui can get pretty damn windy. The 30mph breezes we played in were, according to our hosts, about average. And sometimes they gusted much higher. Of course the fairways are very wide to allow for the conditions. And some of the holes, like the last two, make big sweeping turns, have significant drops in elevation, and entail carrying do-or-die crevasses, so knowing how the winds are blowing and how to judge distance becomes crucial. (That's number 18 at the top of the page.) Luckily I was on my game—it was by far my best ball-striking round of the Golf Road Warriors week—and had a blast plotting my way around like a sailor in treacherous waters and then giggling when I had to roll the ball toward holes that I now believe were optical illusions, perhaps trompe l'oeil artistry painted on bermuda grass.
If you haven't figured it out yet, I'm saying this is a course you really have to play. But not everyone. It's not for the faint of heart (some of the views out to the Pacific and across the water to the island of Molokai may induce vertigo), and those who don't have better-than-rudimentary control of their shots will 1) lose a lot of balls, 2) take a long time, 3) make a lot of swings, and 4) consider giving up the game for good. It's also the kind of course that can shatter the frail psyche of the pretty competent golfer if he, or she, makes a few mistakes early on and loses confidence. That's all fine, just accept it, and play it for no other reason than to determine for yourself just how good the pros really are.
Despite my battered ego and now scarred white knuckles, I firmly believe golf doesn't get much better than matching brains and brawn against The Plantation Course. Despite everything you're going to hit a couple of great shots—the ball hanging against the bright blue sky, bounding along the lush green fairways, and riding the wind just as you planned—that will make you feel as if you can do anything.
A feeling, by the way, that is another one of the great things about this game. Right?