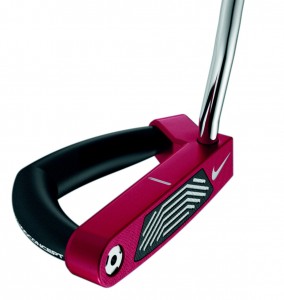 One of the really cool things about this job (if you can call this a job) is the opportunity to see new products before they are introduced to the public.
Back in October, a contingent from Nike Golf came to New York, where I was given a sneak peak at what's new. The new golfwear for 2012 is very colorful and graphic (below), featuring performance fabrics like DriFit and a choice of lines from sporty to sophisticated, plus a new, "elevated" look for Tiger. (Watch for the laser-perforated collar on some of his new shirts.)
In clubs, Nike is trying to simplify things for the consumer with two club lines—Vr and VrS (for Speed: more to come on that soon)—and Method putters. It is from this last category that the mad scientists have thrown the kind of wonderful curveball we've come to expect from Nike.
Introducing the new Method Concept Putter (above and bottom). Like a concept car in the automotive industry, the Concept is meant to push the boundaries by combining what they know about science with what they know about art.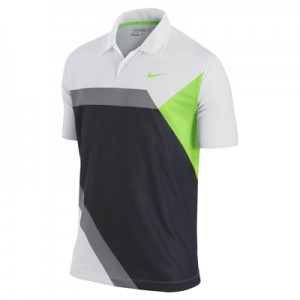 The results on the science side, according to the engineers, are a smoother stroke, truer roll, and less skid of the ball on the green. As to the shape, it's like nothing you've seen.
The face, which looks like a blade, is made of lightweight aluminum. The stainless-steel backweight is heavy and its design unusual, sort of an asymmetrical mallet. (No one is sure whether to call it a blade or a mallet. Is "blallet" a word?) It plays like a much bigger putterhead—characterized by less twisting and more stability—but in a much smaller size.
I haven't put it to an on-course test, but even on a lumpy rug in a corporate conference room contact was solid and the roll true. Like all the Method putters, the Concept uses the company's polymetal groove technology, which gets the ball rolling faster at impact and leads to better accuracy.
It's too early to know if this look will have the sort of long-term effect that other innovations have had on the golf industry: Think metalwoods, perimeter-weighted irons, even the first heel-toe-weighted putter. But golfers likely will say the same thing that greeted all those products: "I know it looks weird, but it will be beautiful once you start using it."
The Concept, available in mid-February, will be available in standards lengths (32, 33, and 34 inches) for right and left handers, for $199. "Mid-length" versions of 41 and 42 inches, will be available in right-hand only for $229.