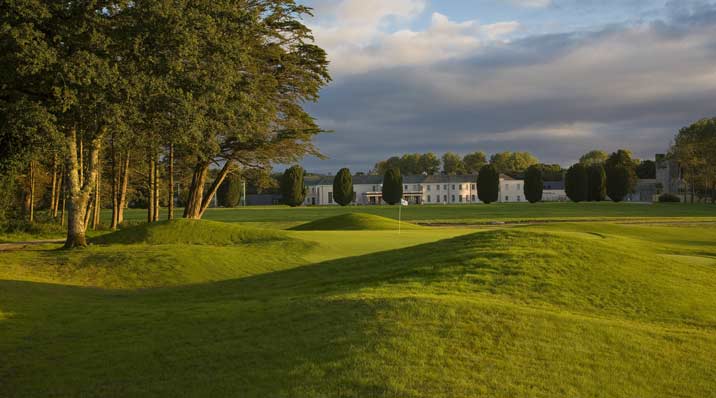 Call this "Releases from the Department of Wishful Thinking." Castlemartyr (above) and Dromoland Castle (below) are about as good as you can get anywhere in the world when a luxury getaway is called for. However, I just went online to check the weather forecast for the next few days and it's only slightly better than here in New York City, where we're freezing our niblicks off. And yet, the idea of sitting in front of one of their giant fireplaces, a Jameson's or Bushmill's in hand, sounds pretty good, it's true. But getting out on the golf course? A wee bit of blarney.


THE DROMOLAND COLLECTION:
TEN REASONS TO VISIT THIS WINTER (PLUS ONE)


A warm Irish welcome, relaxing pursuits and scenic vistas await

Newmarket-on-Fergus, IRE. — Ireland may not be the first destination that comes to mind when contemplating a winter escape – but it should be!  Winter is a special time on the Emerald Isle, and especially so at Castlemartyr Resort and Dromoland Castle, the five star properties that comprise The Dromoland Collection.  Here are 10 reasons why.
1.        The weather!  Southwest Ireland is blessed by moderate temperatures and rainfall in the winter months, ensuring that the spectacular estate grounds remain verdant and welcoming.

2.        Havens of tranquility, The Spa at Dromoland and The Spa at Castlemartyr offer customized, holistic treatments to chase away the winter blahs, from a Soothing Remedy Facial to a Seaweed Hot Stone Massage.

3.        Fireplace-lovers most assuredly will not be disappointed by either the Manor House or the Castle.  They boast a total of 10 — some grand, some intimate, but each of them the perfect backdrop for settling in with a good book, enjoying a game of chess or lingering over Afternoon Tea.

4.        A glass of Irish whisky in The Cocktail Bar at Dromoland Castle or The Knight's Bar at Castlemartyr Resort while watching tendrils of fog weave their way through the estate is the perfect digestif after a fabulous meal prepared by Executive Chefs David McCann or Roger Olsson.

5.        Full Irish breakfasts are reason enough to enjoy The Dromoland Collection at any time of year, but they're especially satisfying in the winter months.  Bacon, sausage, eggs, black and white pudding, toast, potatoes, tomatoes – and of course, that Irish classic, brown soda bread.

6.        Wintertime play at the world-class Dromoland Castle Golf and Country Club and the Castlemartyr Golf Club is a relaxing alternative to the usual high season golfing destinations.

7.        Opportunities for other outdoor Country Pursuit activities abound.  From laser clay shooting at Castlemartyr Resort to experiencing a Hawk Walk with Dromoland Castle's expert falconer David Atkinson, guests will enjoy their choice of traditional Irish sporting activities right there at the resorts.

8.        The jet pool in the two-story glass-enclosed atrium at Castlemartyr Resort, not to mention the outdoor hydro spa sheltered by a gazebo and a landscaped courtyard at Dromoland Castle, are positively decadent.

9.        Walkers of all ages can spend hours exploring the resorts' grounds, which include private lakes, ruins and follies, historic walled gardens and hundreds of acres of mature woodland populated by a plethora of wildlife, including pheasant and foxes.

10.     The Dromoland Collection's wintertime B&B offers are an excellent value.  With midweek packages at Dromoland Castle and weekend packages at Castlemartyr Resort, the clever traveler will take advantage and visit both!

11.     Winter is indeed a special time to experience The Dromoland Collection, and these are only ten of the many reasons why. Here's just one more . . .The warmest welcome in all of Ireland.
The Dromoland Collection:  Irish hospitality at its finest, all year 'round.

The Dromoland Collection comprises Dromoland Castle and Castlemartyr Resort, two of Ireland's finest and most celebrated hotels.  The hotels in this collection embody the legendary Dromoland tradition of incomparable hospitality complemented by exquisite surroundings, yet each possesses a distinctive style, character and charm all its own.
About Castlemartyr Resort:
Nestled in the unspoiled rolling countryside of East Cork near the ruins of an 800-year-old castle, Castlemartyr Resort's crowning jewel is a classic 18th century manor house. The Manor has been magnificently restored and elegantly enhanced to offer 103 deluxe guest rooms, gourmet dining, an expansive world-class spa and welcoming, impeccably styled interiors.  Opportunities for outdoor pursuits abound both on the estate, which includes an inland-links-style golf course designed by the renowned Ron Kirby, and in the surrounding region.
Castlemartyr Resort is located in Castlemartyr, Co. Cork, Ireland. The hotel can be contacted at: 011 353 21 4219000; website: www.castlemartyrresort.ie. Reservations can be made through the hotel (reception.castlemartyrresort.ie) or through The Dromoland Collection at: www.dromolandcollection.ie.
About Dromoland Castle:
Dromoland Castle, located in Newmarket-on-Fergus, County Clare, was built in the 16th century.  Majestically set on the shores of Lough Dromoland, it is surrounded by over 410 acres of breathtaking scenery, including a championship parkland golf course.  Lavish interiors, fine food and superb wines complement the deluxe accommodations of the Castle's 99 guest rooms, while Dromoland Castle Golf and Country Club, an intimate spa and traditional outdoor recreational opportunities ensure a unique guest experience.
Dromoland Castle is located at Newmarket-on-Fergus, Co. Clare, Ireland. The hotel can be contacted at: 011 353 61 368144 or 1-800-346-7007; website www.dromoland.ie. Reservations can be made through the hotel (sales@dromoland.ie) or through The Dromoland Collection at: www.dromolandcollection.ie.