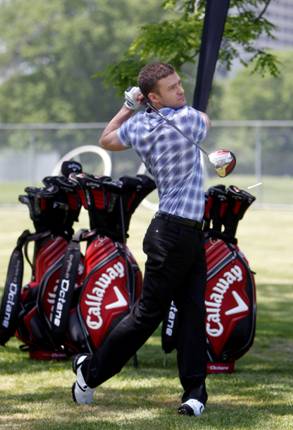 With Father's Day just a few days away, Callaway Golf is trying to get you to pull on the old heartstrings. And whoever pulls best wins a new driver—and maybe more.
Callaway is running a contest called "Tee Off with Diablo Octane and Justin Timberlake." To enter, write up "an emotional and entertaining story" that describes how golf brought you closer to someone in your life. It doesn't have to be about your dad, but this is a Father's Day contest, so….
The story can be up to 100 words long and photographs are optional. To enter, go to Callaway's Facebook page.
Twenty-five finalists will win a new Diablo Octane driver, the club made from super-lightweight carbon composite fibers developed with sports-car maker Lamborghini. One grand-prize winner and a guest will win a golf day with actor/singer Justin Timberlake (left) and his dad at their golf club, Mirimichi, outside Memphis, Tennessee, as well as a full set of custom-fit Callaway clubs.
Entries need to be by June 19th. Get all the details and contest rules on Facebook then get ready to turn on the tears.