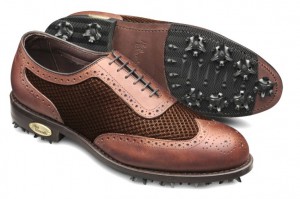 Golfers are not averse to spending hundreds or thousands of dollars on clubs, rationalizing big expenditures on equipment as being helpful to their games.
So why don't we spend more on our shoes?
Shoes are equipment, too. How our feet feel definitely affects how we play, and while we use a driver at most 14 times a round (assuming no mulligans or provisionals), shoes are crucial to our success on every shot and every step.
As soon as you're ready to pamper your pedal extremities, check out the new Honors Collection from Allen Edmonds, the made-in-U.S.A. manufacturer of fine men's footwear since 1922.
Each shoe, available in five golf styles, takes 212 steps to handcraft at the company's Wisconsin plant. They're top quality all the way, starting with the finest premium leathers. The Goodyear 360-degree welted construction ensures stability with flexibility. Heated cork is fitted between the insole and outsole to produce an orthotic-like fit.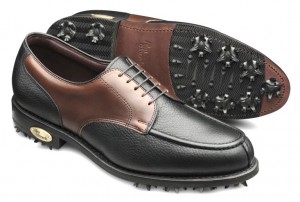 And all Allen Edmonds shoes are available in a ridiculously wide range of sizes—big, small, wide, narrow, and everything in between—so it's almost like being custom-fit for every pair.
But most amazing is how they feel. The way they hug the feet without squeezing or crimping, with support so good you forget you have them on while being very conscious of the comfort and coddling. Tying on an Allen Edmonds shoe is like sliding behind the wheel of a Bentley in a world of Buicks. There's no comparison.
The styles are elegant, as well. The Redan (below) is a classic saddle. Mullen (right) is a Moc Toe bluchar. 1 Up is a wingtip, as is my favorite, Double Eagle (top), which has a more breathable mesh upper so it's good for hot weather. Plus there's a spikeless teaching shoe called Links. All come in a variety of colors.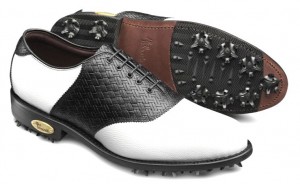 Befitting the handcrafted heritage, the company also offers a "Recrafting" service for any of its shoes: Send them in and the factory will restore youthful vitality to grizzled veterans, extending the life of your old favorites.
Allen Edmonds shoes—now found on the feet of Ben Crenshaw—are available at upscale stores, at 32 of their own shops throughout the U.S., and online. Prices begin at $245 for the teaching shoes; the others are $345 a pair. Money well spent, I assure you.