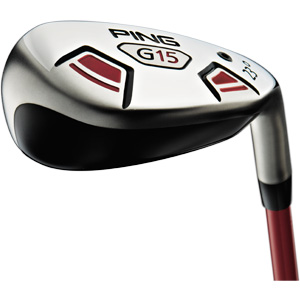 If you need a fast fix for poor play, here's a tip: Ditch the long irons and pick up some hybrids. There's no easier way to bring distance, control, and confidence to your long game.
The hybrid has been one of golf's biggest success stories of the last few years. A combination iron/wood, it began life as a trusty, easy-to-hit substitute for the 2-, 3-, and 4-iron, allowing higher-handicap golfers and those with slower swing speeds to get the ball in the air, hit long, straight shots, and escape the rough. In time, more and more average golfers came to appreciate the hybrid's versatility and consistency.
But in the last year or two, the category has matured. While most on- and off-course golf stores carry a choice of hybrids that will benefit the majority of golfers, a number of companies now make versions for better players, even Tour pros. This new species of hybrid—such as the Adams Pro Black, TaylorMade R9 TP (Tour Performance), Callaway FT, and Ping i15—hits a lower, more boring shot than the standard hybrid and allows for more shotmaking, while continuing to offer the advantages of accuracy, distance, and utility.
So however you play, there's a hybrid for you. But don't simply grab one off the shelf and stick it in your bag. Let a pro or clubfitting expert help you find the hybrids that will do the job while complementing your game and the other clubs in your bag.
Many players assume that a 3 hybrid hits the ball as far as a 3-iron and a 5 hybrid the same as a 5-iron, just with a higher trajectory so shots land more softly: That was conventional wisdom in the hybrid's early days. But with improved head designs and the availability of different shafts and club specs, the equation isn't so simple.
"When I'm fitting a hybrid," explains Rob Passarelli, a PGA pro in the Golf Galaxy store in Christiana, Delaware, "I ask which club the golfer is replacing, specifically which model, because some irons have such strong lofts. So I might actually replace a 3-iron with a 5 hybrid."
"If someone is thinking of replacing his 4-iron, we ask him to bring his 5-iron as well," says PGA teaching pro Mike Kohn, from the Towson, Maryland, store. "We want to see how far he hits both clubs because it's not just about the distance, it's about fitting the new club into the set. We use launch monitors and simulators and we ask the player questions so we can help him find not just a club but the right club."
Your pro should also ask how far you hit the other long clubs in your bag—driver, fairway woods, and long irons. The idea is to match the hybrid to your set to create consistent distance gaps between clubs. With the longer clubs, the preferred gap usually is 12 to 15 yards, so you want your new hybrid hitting the ball about 15 yards longer than the next club in your bag. Unfortunately, many golfers don't realize that and buy a hybrid without thinking about how it fits in.
"I have folks who come in and say they replaced their 3-iron with a 3 hybrid but it hits the ball 20 yards farther," says Passarelli. "I promise you, we'll find the hybrid that fits in the best, that covers the gap."
Once comfortable with your new hybrid, you might consider adding more: Hybrids have shorter shafts than fairway woods and many golfers find them easier to swing while producing more consistent results.
After that, you may want to rethink your set makeup. Some manufacturers build hybrids with the loft of mid-irons, and a number of companies, including Adams, Ping, and TaylorMade, now offer sets that integrate hybrids and irons.
Start with one hybrid as a way to perk up your game and there's no telling where it will end.
An edited version of this article originally appeared in "Tee Time," published by Golf Galaxy.