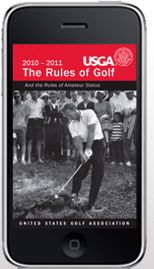 Who would have thought it would be the USGA encouraging us to bring cellphones to the golf course? But they are, and they're offering a pretty good reason: An app for the iPhone and iPod touch that brings the Rules, the Decisions, and the Rules of Amateur Status just a few clicks away.
Available from the iPhone store for $3.99, the app gives golfers instant access to the Rules and Decisions, and also allows users to send emails directly to the USGA with questions. (No promises as to how quickly they'll respond.)
Plans are to have versions for the BlackBerry and Google Android operating systems soon. There's a little more information, and a little more sales pitch, at the USGA's site.
If anyone has tried the app yet, let us all know how it is. Post your comments below.