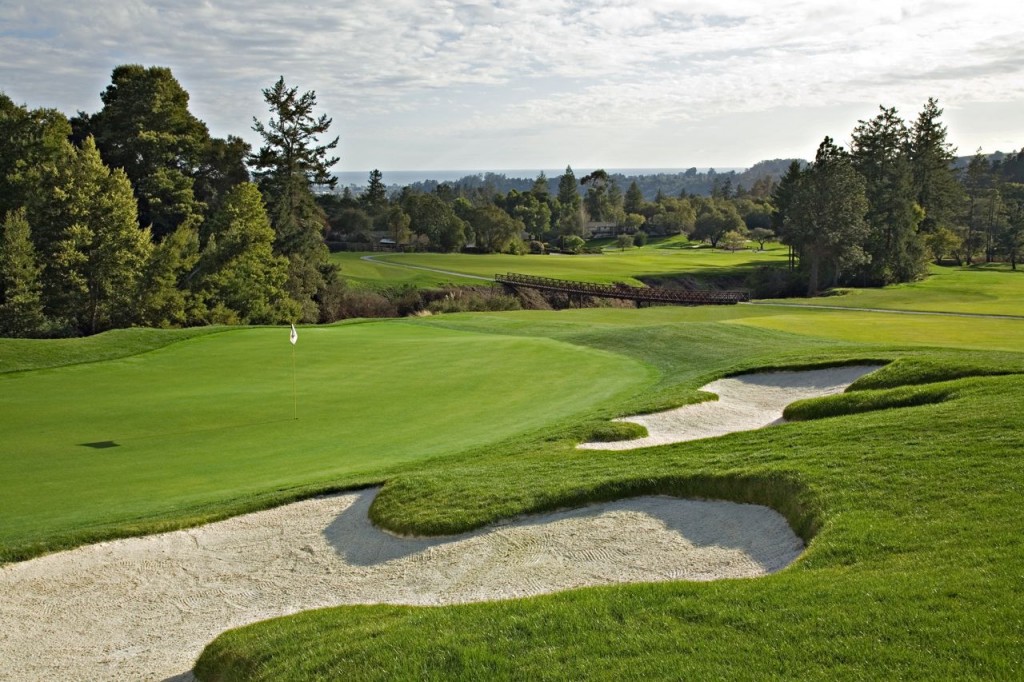 Someone had a great idea. Create a package that lets you play two really good courses that couldn't be more fun or more different, and are only 25 miles apart.
You have to go to California to do it, but trust me: It's worth the trip.
The two courses are Pasatiempo and CordeValle, both on Golf Digest's list of Top 100 public tracks, and both in the foothills of the Santa Cruz Mountains, just on opposite sides.
CordeValle, designed by Robert Trent Jones Jr., and opened in 1999, has hosted the Frys.com Open on the PGA Tour and been on many great-course lists. It's a scenic and challenging layout that rolls over foothills and next to vineyards. (Below is a view from one of the guestrooms. Not bad, huh?) It's part of an outstanding Rosewood Resort that is run like a private club far from the world, with good food, 45 rooms, tennis, pool, and a spa.
About 25 miles away—after a beautiful drive through the mountains and along Monterey Bay—is Santa Cruz, a coastal town with a distinctly '60s vibe  and great surfing. Just out of town is Pasatiempo, a masterpiece designed by Alister MacKenzie (that's the 11th hole, above). In fact, this is where "the good doctor" made lived his final years; there's a plaque embedded in the cart part along the sixth fairway noting that the house just over the fence was his. MacKenzie designed the course in 1928-9, just a few years before working with Bobby Jones on Augusta National (in fact, Jones looked at Pasatiempo, as well as Cypress Point, before asking MacKenzie to help him out). You don't have to be a student of course architecture to see similarities between Pasatiempo and Augusta, especially on and around the greens and especially the bunkers.
These are two terrific courses, and you can play them both, and stay at CordeValle, as part of their "Top 100 Golf" Package, which begins at $305 per night. It includes accommodations, breakfast, a cart at each course, and a forecaddie at CordeValle.
For more information on the package, call 408-695-4562. Even if you can't get to these two courses now, get to them eventually. You'll be glad you did.