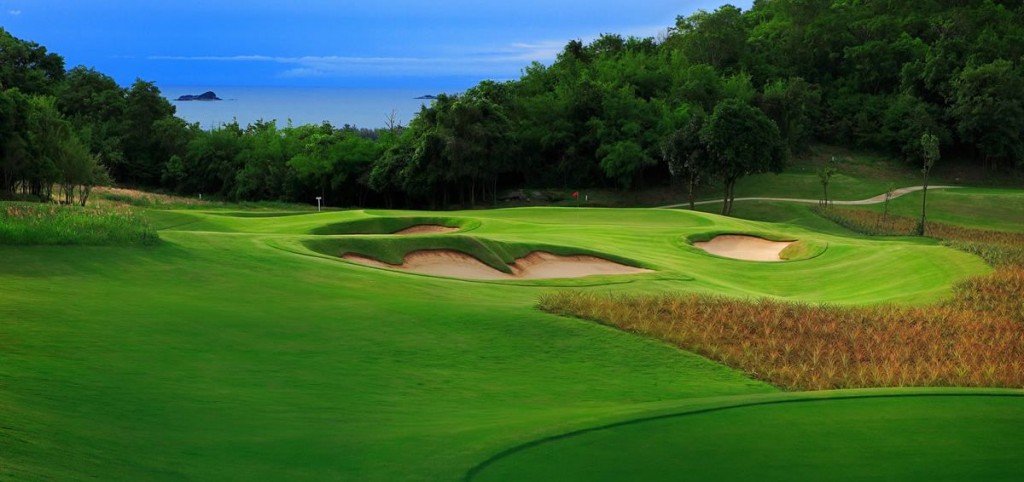 Banyan Golf Club, Hua Hin, Thailand
"Kwa?" I asked the pretty young woman whose dark eyes stared out from under her big-brimmed hat. "Right?"
Siep, my caddie at the Thai Country Club near Bangkok, looked up at me, shook her head, and said sternly, "Sigh," making a ring with her thumb and forefinger, pointing with her other forefinger at the left side of her imitation golf hole.
"Sigh," she said. "Left!" My putt, she was explaining, should be aimed at the left edge of the hole. Her read was spot-on, and her smile when the putt dropped was all the congratulation I needed.
Caddies like Siep—smart, indefatigable, and skilled at reading greens—are part of the fun of golf in Thailand. And their willingness to do almost anything (including a quick massage on a golfer's aching back) helps explain why tourism is the country's leading industry.
While other parts of Asia aggressively push themselves on the international golf scene, it's easy to overlook Thailand, which boasts more than 250 courses but is characteristically serene in marketing them. In fact, the only country in Southeast Asia never colonized by a foreign power just may offer the best combination of golf, accommodations, food, and service—all at very affordable prices—anywhere: Do the math and a week of exotic golf halfway around the world costs about the same as a week of the same old same old in Scottsdale or Orlando.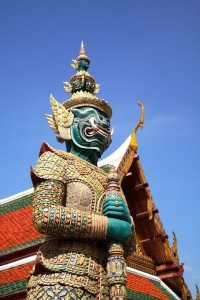 Start in Bangkok, taking a few days to acclimate to the time change (nine hours ahead of the West Coast) and see some of the sights, notably the shimmering Grand Palace (left), numerous wats (Buddhist temples), long boats on the Chao Phraya River (remember the James Bond movie "The Man with the Golden Gun"?), and miles of street markets. Be sure to play the Thai Country Club, a classic design with acres of sand and water. Note the 360-yard par-four 10th hole, which Tiger Woods hit in one while winning the Asian Honda Classic in 1997: He then three-putted for par and supposedly blew his legendary Thai-inspired cool. Other challenging rounds within an hour of the capital can be had at Alpine Country Club, Navatanee Golf Club, and Muang Kaew Golf Club.
Three hours either side of Bangkok lie two resort towns on the Gulf of Thailand. To the east is the more raucous Pattaya, with more massage parlors, bars, and randy tourists; west is Hua Hin, with a sedate, family atmosphere inspired by the presence of the summer palace of the beloved King Bhumibol, the world's longest-serving head of state. (Note: Speaking ill of the king in public is a crime, and on this subject, at least, the Thais are very serious.)
Near Pattaya, the two courses at Siam Country Club are like the good and evil stepsisters. The almost 40-year-old Old Course was the first privately owned track in Thailand and host of an LPGA event in 2007: Relatively flat, tree-lined, and featuring rolling greens, this traditional design closes with four tough holes; you may want to ask for help from the Buddha behind the ninth green before making the turn. About two miles up the road—and I do mean up—the 27-hole Plantation course is considerably wilder, with drastic elevation changes, fairways abounding with bunkers, blind shots, tricky greens, and rough comprised of pineapple, tapioca, and sugarcane (not coincidentally the names of the three nines). The 18-month-old Plantation is the local favorite, but play both courses if you can.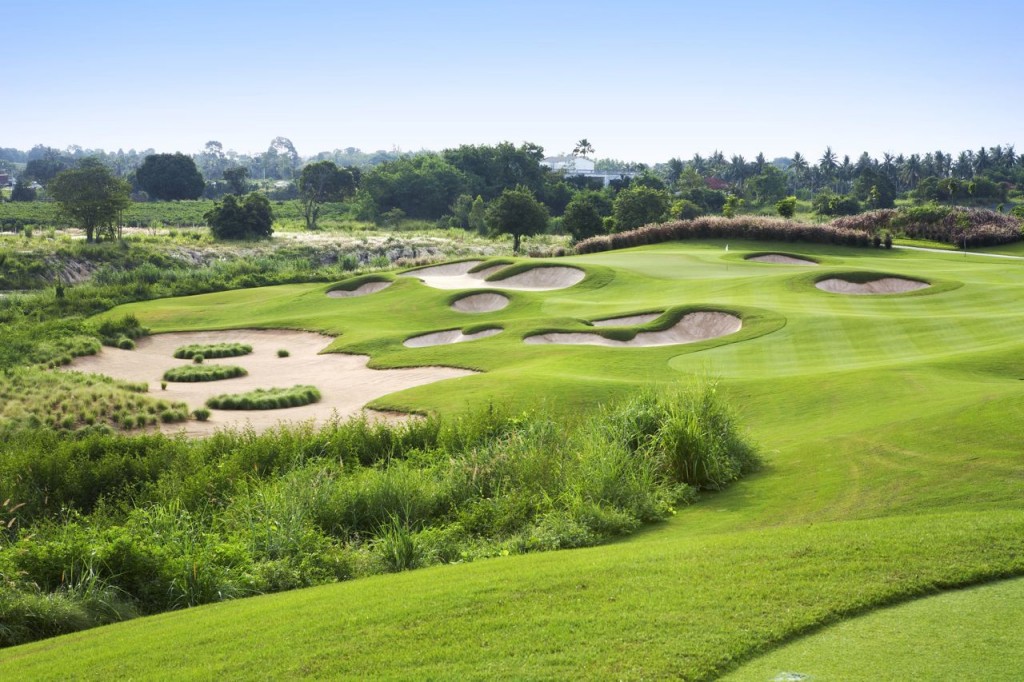 Siam Country Club, Plantation Course, near Pattaya
In Hua Hin, don't miss walking on the beach or taking on Banyan Golf Club, recently named the best new course in Asia. Carved into a hillside amidst fields of pineapple, this year-old course is beautifully maintained and will hold your attention as it rises and falls, wraps around trees, and calls for smart shotmaking. The homegrown architect broke from convention by using zoysia grass rather than the Bermuda-like paspalum commonly found on Thai fairways; the result is a lush look and better lies. The clubhouse is interestingly ultra-modern, and like club facilities country-wide, open to guests for much-needed post-round showers, drinks, and food.
Tourists, particularly Europeans, flock to the island of Phuket, an hour's flight south of the capital. Ringed with beaches, this is where to go for R&R; the U.S. Navy still pulls into port on occasion, which tells you what kind of attractions to expect. Stay away from Phuket City unless you want gaudy nightlife, but don't avoid the Canyon course at Blue Canyon Country Club. A walking-only adventure (take it slow, drink plenty of fluids, and use your umbrella for sun protection), this is a big ballpark that winds into a canyon and along its many lakes. Tall trees (some in the middle of fairways), precipitous drops, and forced carries all take their toll, as do the heat and humidity. The next-door Lakes is a more straightforward course that allows carts.
For an easier warm-up in the tropical sun, try the Banyan Tree course at Laguna Phuket resort, which is flat, wet, also walking-only, and finishes with long back-to-back par-fives that thankfully end next to the outdoor bar. For another canyonesque test, the new Red Mountain Golf Club was built in an abandoned tin mine and will definitely test your mettle.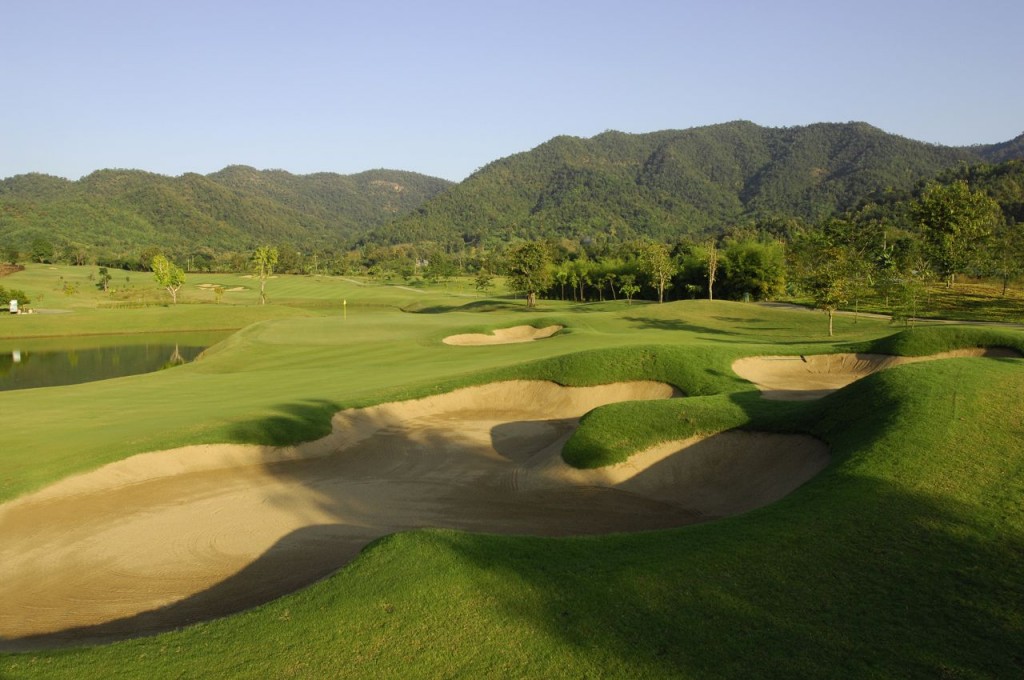 Chiang Mai Highlands, near Chiang Mai
At the top of the country, in the infamous "Golden Triangle" where Thailand abuts Laos and Myanmar (Burma), Chiang Mai served as capital of the kingdom 800 years ago: The old walled city that remains is a maze of winding streets, wats, and markets. Half an hour into the surrounding mountains, five-year-old Chiang Mai Highlands sweeps up and down, the fairways are wide, and the more than 100 bunkers create forced carries and a few funky holes. Possibly the breeziest course in Thailand, it is a welcome breath of fresh air.
Further east near Chiang Rai, another former capital, Santiburi Country Club is not quite as sprawling as Chiang Mai Highlands but similarly rolling and perfectly maintained in the high terrain. The front nine is lined with water and trees and the greens are tucked among big bunkers. Both courses are less tropical and more like North Carolina or the Pacific Northwest.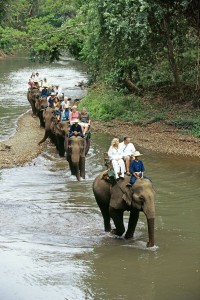 The two Chiangs also serve as gateways for hikes and bike treks into the mountains and jungles, and nearby elephant camps (right) let visitors get up-close and even ride the big beasts. In Mae Sai, leave your passport for an hour and walk into Burma, which is little more than a street market of cheap knock-offs. Word is there are some good courses in Burma and the game is popular among the ruling generals. Perhaps that's a sign that one of the world's less enlightened nations is showing signs of progress.
How To Thai It Up
The best way to arrange a Thailand golf trip is through a tour operator, and the best of those is GolfAsian, whose buses and guides will shepherd you from arrival to departure. Their website has loads of information about the country's courses, as does the site golfinakingdom.com, a consortium of local golf properties. For general travel information, contact the Tourism Authority of Thailand.
GolfAsian can recommend hotels in all price ranges, but try to stay in at least one Anantara Resort while in Thailand. Located in Phuket, Hua Hin, near Chiang Rai, and elsewhere, these are among the world's finest resorts; the Anantara Golden Triangle even has its own elephant camp.
Bangkok has all the major chains, but the Marriott along the Chao Phraya River is the only resort within city limits; at the other end of town, the Westin Grande is conveniently located in the bustling Sukhumvit business/shopping/dining district. In the old part of Chiang Mai, the De Naga hotel is a delightfully comfortable refuge. The modern Woodlands Resort at the north end of Pattaya is just far enough away from the wildest action and offers plenty of room to spread out.
As for food, you have to work hard to get a bad meal in Thailand (although be mindful of street carts). Restaurants have English menus and the dishes are fresh, tasty, and except in the top hotels, very affordable. Wine is expensive but the local beers, notably Singha and Chang, are cheap and good.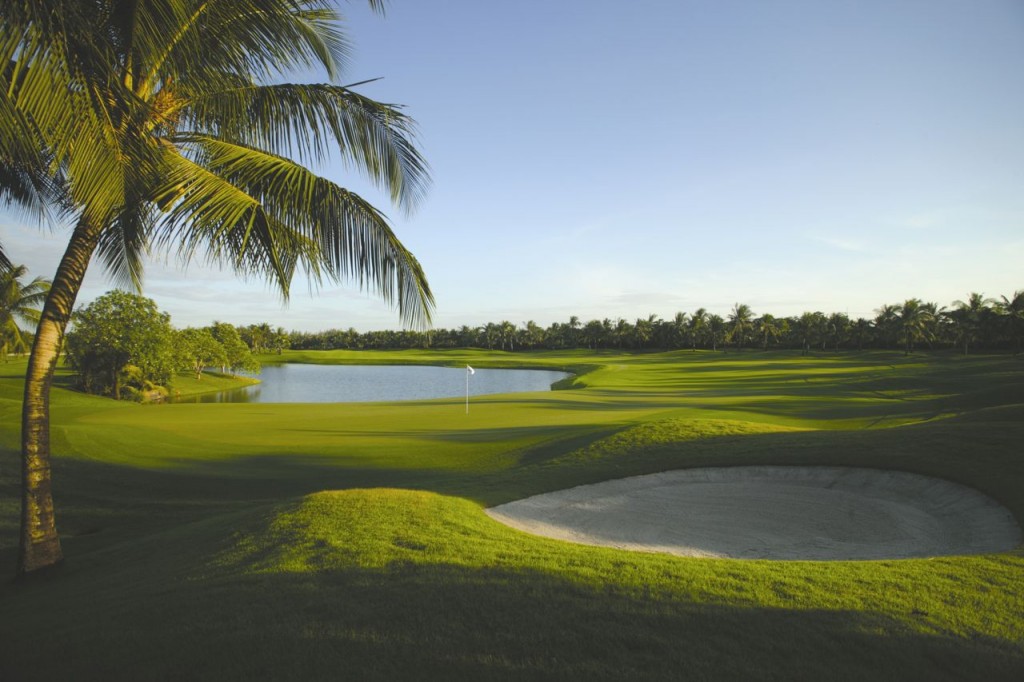 Thai Country Club, near Bangkok
Caddies are required at nearly every course, but even with tip the cost is rarely more than $20. Taxis and tuk-tuks (motorized three-wheel cabs) are cheap, ATMs are everywhere, and U.S. dollars are useless. Good rental clubs, shoes, even umbrellas are available at all courses.
Work your trip around the weather. It's always hot, but our winter is the most pleasant time to go. Our summer is their rainy season, when it usually pours for a few minutes every day. And it can be oppressively humid. Thankfully, Thailand is very casual, shorts and t-shirts accepted almost everywhere (except in some palaces and temples).
This article originally appeared in the Winter 2010 issue of NCGA Golf magazine. Photos courtesy the properties and Mandarin Media.